Food Security: PQA's Commitment to Addressing Disparities and this Critical Social Determinant of Health that Impacts Medication Use Quality
Social determinants of health (SDOH) are a priority for PQA because, in addition to traditional care, issues like medication cost, literacy, transportation and food security impact a person's ability to access medications and use them safely and effectively. 
Food security, which is defined as having reliable access to a sufficient quantity of affordable, nutritious food, greatly impacts medication use quality. Individuals without reliable access to affordable, nutritious food are more likely to be non-adherent to medications. Food insecure individuals often choose between buying medication and food and are more likely to report getting sick because they cannot afford medications. Beyond impacting access to medications, food security affects chronic disease management, as nutrition impacts disease status and medication effectiveness.  
Food security challenges disproportionately impact underserved communities, including communities of color, people living in rural areas, people who are differently-abled, older adults, LGBTQI+ people, military families, and military veterans. As part of PQA's commitment to health equity – and outlined in our Blueprint PQA 2025 strategic plan – we are committed to advancing best practices, through research and education, on patients' unmet social needs and barriers to equitable medication access, safety and appropriate use. 
Of note, pharmacies and pharmacists can help patients access food assistance programs provide culturally sensitive counseling related to food preferences and traditions to support good nutrition. 
Sharing Innovative Practices and Setting a Patient-Centered Research Agenda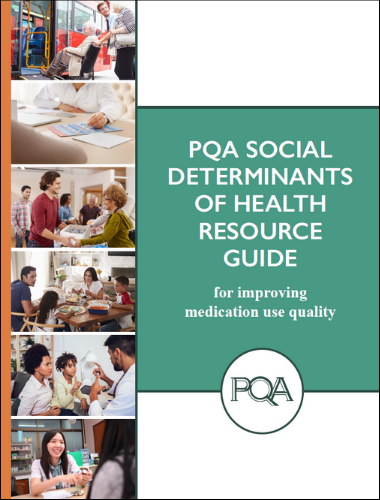 PQA's recent work to address food security, as part of its broader strategy to improve medication use quality, has included the development of the PQA Social Determinants of Health Resource Guide. Published in January 2022, it is the first and only national resource that documents real-world SDOH services that are promising for improving the quality and safety of medication use with a focus on screenings, referrals and interventions conducted by or involving pharmacists or pharmacies. Twelve of the guide's 20 initiatives address food security.  
Additionally, PQA convened patient and pharmacy stakeholders in 2022 to develop a patient-centered outcomes research agenda to improve SDOH screenings and interventions in pharmacy settings. Food security was identified by project participants as a top barrier to medication access and adherence. 
Expanding PQA's Work and Supporting National Goals 
PQA is expanding its work to address food security and its impact on medication use quality. PQA's work is aligned with national goals, and PQA supports the Biden-Harris Administration's goal of ending hunger and increasing healthy eating and physical activity by 2030 so fewer Americans experience diet-related diseases. 
Aligned with PQA's mission and strategic goals, we are committed to: 
Expanding the PQA Social Determinants of Health Resource Guide to further document effective and scalable food security initiatives.

 

Leading e

ducation and communications programs to improve awareness, understanding and use of the guide.

 

Conducting r

esearch that evaluates the effectiveness of innovative real-world services in pharmacy settings or involving pharmacists to screen, refer or intervene on food security with an emphasis on disparities, equity and person-centered preferences.

 

Leading d

emonstration projects that showcase value and best practices in addressing food security and opportunities to scale evidence-based strategies

that improve medication use quality

.

 

Convening PQA's multi-stakeholder membership to prioritize opportunities for research, quality improvement and education related to food security. PQA members include pharmacies, health plans, health care providers, pharmacy benefit managers, biopharmaceutical companies, technology vendors, government agencies, associations, health information technology organizations, researchers, accrediting organizations and academia.

 
Integrated with PQA's broader work to improve medication use quality, PQA is confident these strategies and initiatives will lead to systemic and long-term improvements in care delivery structures, processes and outcomes, particularly as they related to chronic disease. 
Share this post: