Medication Adherence: High-Impact, Relevant Measures
Medication adherence quality measures are relevant and high-impact, according to PQA's Ben Shirley, Melissa Castora-Binkley and Lisa Hines, whose Population Health Management point of view article was published online April 29.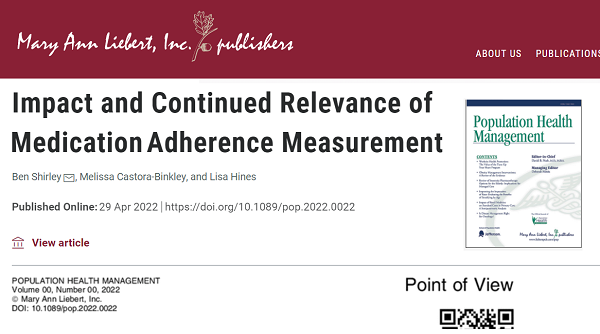 They explain that adherence measures in the Centers for Medicare & Medicaid Services (CMS) Part D Star Ratings have contributed to immense public health benefits and savings over the last decade. As the measures evolve to integrate new data sources and address equity, their value to the health system will continue. They are an excellent example of how evidence-based quality measures implemented into accountability programs with meaningful incentives can move the needle and improve population health. 
Adherence measures are high-impact and high-value.
A wealth of evidence has demonstrated that improvements in adherence measure performance for diabetes, high cholesterol, and high blood pressure medications correlate to improvements in patient health, reductions in health service utilization and lower costs.
Nonadherence is responsible for 125,000 deaths per year and contributes more than $100 billion in avoidable costs to the health care system.
Improvements in adherence can yield as much as a 13:1 benefit-cost ratio.
CMS Part D Star Ratings measures act as strong drivers for health plan quality improvement efforts.
Measure burden reduction is a key CMS goal, and adherence measure data is generated as a part of routine workflow in the pharmacy setting and does not add burden.
There is continued room for improvement in adherence.
Adherence measures are not "topped out," based on performance data in the CMS Part D Star Ratings.
Their continued use is critical to maintaining the improvements realized to date.
Average measure rates are high, but underlying subpopulations have variations in performance and opportunities to address disparities persist.
There are future opportunities to strengthen adherence measures.
A next step could be the creation of a composite measure of adherence.
Equity represents another critical priority for adherence measurement and aligns with national commitments to address disparities. 
One potential approach to improving disparities is by stratifying publicly reported performance rates by groups of interest.
Read the full article for additional information plus detail on these points. Learn more about PQA's adherence measures and PQA's measures used in the CMS Part D Quality Programs.
Share this post: