Q&A with Richard Schmitz on PQA's New SDOH Resource Guide
PQA has created a new Social Determinants of Health (SDOH) Resource Guide that profiles real-world SDOH services that are promising for improving the quality and safety of medication use with a focus on screenings, referrals and interventions conducted by or involving pharmacists or pharmacies. Richard Schmitz, PQA's Chief Engagement Officer, provides insights on the guide, it's origins and what's next in this Q&A blog.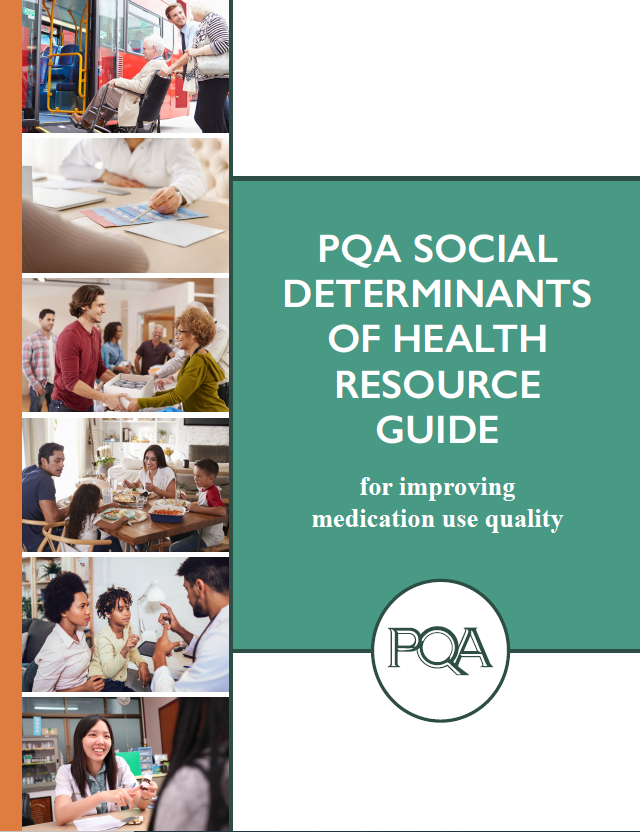 Tell us about the guide and its purpose.
The PQA Social Determinants of Health Resource Guide is a compendium of real-world SDOH services that are improving the quality and safety of medication use. The first edition includes 20 examples of SDOH screenings, referrals and interventions from across the nation. The guide provides information on each service's location, scale, target population, care setting, intervention and outcomes.
The examples profiled address at least one of seven SDOH barriers: Cost of Medications; Cultural or Literacy Barriers; Decent, Safe, and Affordable Housing; Food Security; Screening for Unmet Needs; Social Isolation; and Transportation.
Who is the audience?
The guide is designed for health care professionals working in a variety of settings across our care system. Our goal is to provide them with a centralized source of ideas and examples of SDOH services they can implement in different settings, in partnership with pharmacists, pharmacies and others.
Whether you're working for a health plan, pharmacy, health system, community organization, public agency or other provider, the guide has useful insights for starting or enhancing SDOH services. The examples profiled include local, state, regional and national-level interventions.
Can you share an example of an intervention featured in the guide?
The HealthTag Initiative is a featured intervention that leverages pharmacist-patient interactions to foster communication and address SDOH factors. Using Aetna claims data analysis, CVS pharmacists provide personalized referrals to community services organized by Unite Us, which is a technology company that builds coordinated care networks of health and social service providers. It's a great example of multi-stakeholder collaboration and coordination to address SDOH.
The HealthTag program currently is in 32 CVS stores in Louisiana and in 15 CVS stores in West Virginia with plans to expand. If you want to learn more, you can attend the PQA Quality Forum webinar on January 27, which will provide an overview of the guide and profile the HealthTag Initiative. That webinar is free and open to all audiences.
What makes the guide unique?
We believe it is the first resource guide that catalogues pharmacist and pharmacy-centered SDOH services. When you consider the accessibility of pharmacies in the community and the trust pharmacists have with patients, they are well positioned to connect individuals to SDOH resources. For PQA, it made sense to aggregate services that address SDOH barriers to medication access, adherence, safety and appropriate use.
This guide is complementary to other resources like NCQA's SDOH Resource Guide, which features design and implementation strategies to address SDOH in commercially insured populations, but does not feature the pharmacy setting or pharmacist-provided care.
What led PQA to create this guide?
PQA hosted in 2019 a national forum to showcase emerging best practices to address SDOH and the role of pharmacists. It was an incredibly successful event. We wanted to build on that in 2020 but go a step further by developing a durable resource.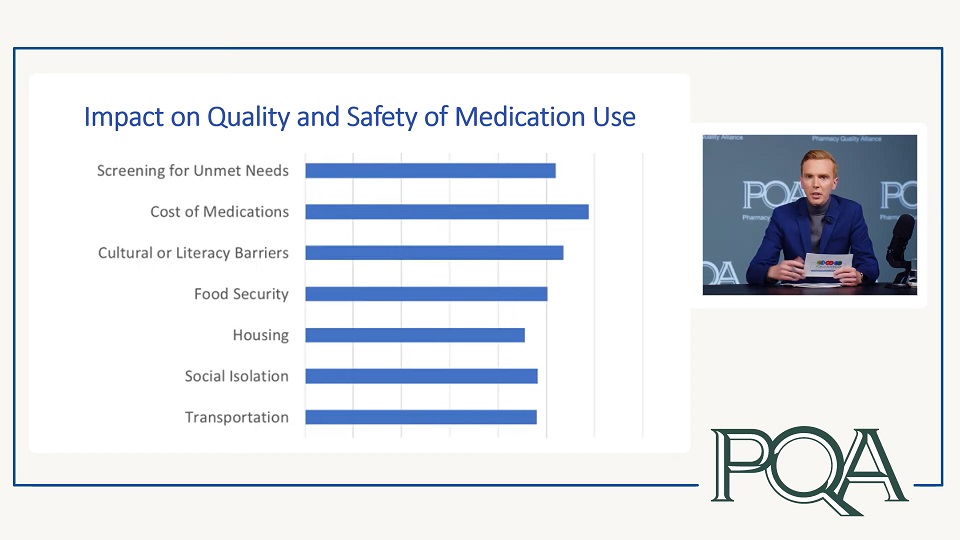 We used our 2020 Leadership Summit to survey our members on a set of SDOH factors and action items for:
Their potential to improve the quality of medication use,
The ability of pharmacists to address them, and
How our member organizations were addressing them.
That scoring helped determine the scope and focus of the guide and we spent 2021 researching, writing, editing and designing it.
As with most things at PQA, our work began with our members. They pointed us in the right direction, and we used their counsel and contributions to build the guide. We're proud of what we've created – a member-responsive resource that should hold benefit for the entire system.
What else is PQA doing to address SDOH?
SDOH, health disparities and health equity are top priorities for PQA because of their impact on medication access, safety and appropriate use. In fact, one of our four strategic goals calls for PQA to "champion diversity, equity and inclusion and address health disparities in medication use quality."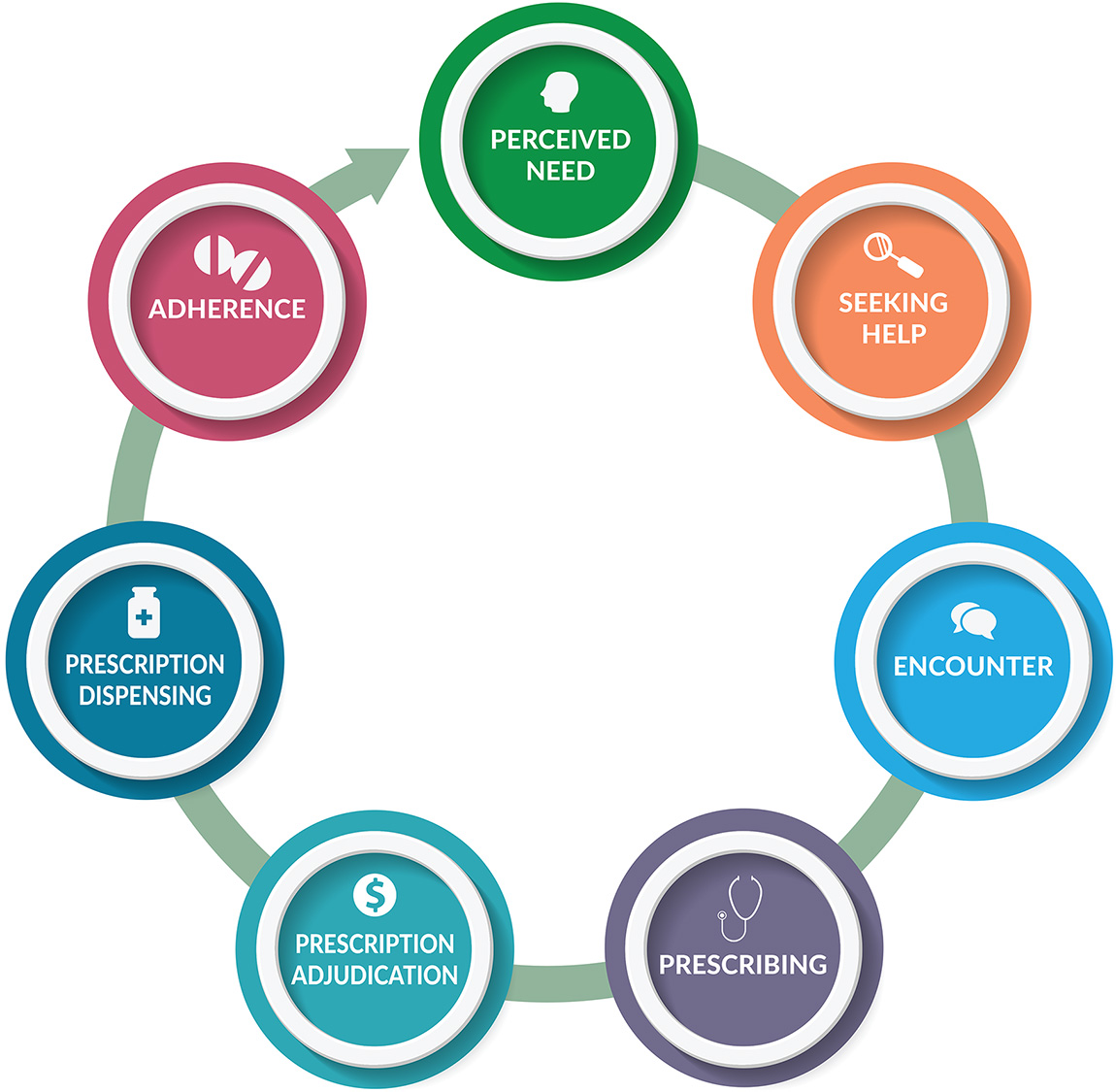 We have a number of research projects addressing SDOH, including a new PCORI-funded project that will convene patient and pharmacy stakeholders to develop a patient-centered outcomes research agenda to improve SDOH screenings and interventions in pharmacy settings. Much of that work builds on the "Medication Access Framework for Quality Measurement" that PQA released in 2019 to address the SDOH that hinder patient medication access and contribute to poor health outcomes.
Additionally, PQA remains focused on strategies to leverage measure stratification to improve outcomes for underserved and vulnerable populations.
What's next for the guide?
This guide just scratches the surface of what is happening in the SDOH space. We are regularly identifying new services and interventions. I expect our members and other stakeholders will provide us with even more examples, as they see this guide.
We will continue to expand the guide and plan to issue a second edition within a year that features additional examples, plus updates for some of the projects already featured, as many of them are in progress and will report results in the future.
Anyone can submit interventions for consideration through a form on PQA's website. And we welcome additional feedback by email.
We are grateful to our member organizations for their contributions to this guide, especially Merck and Humana, whose support helped us create it and will enable us to promote it broadly throughout 2022.
Share this post: