Ten Great Things to Do at the PQA Annual Meeting
The PQA Annual Meeting is next week, Tuesday, May 11, through Thursday, May 13, with a companion Research Symposium on Monday, May 17. This year's meeting has more than 50 educational, networking and entertainment sessions or events. You can
register
at any time to attend and, if you miss any sessions, they're available to all registrants on demand after the meeting.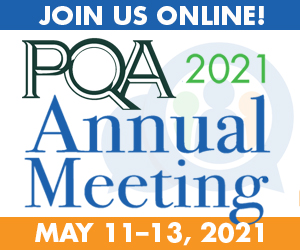 Here are 10 of the fantastic opportunities to 
learn, network and engage at the 2021 PQA Annual Meeting.
Participate in the Town Hall Meeting with Micah Cost on May 11. You'll hear insights on his first 100 days leading PQA and his vision for the future. For part of the event, he'll be joined by former CMS Administrator Mark McClellan and former CMS Senior Advisory Larry Kocot.


Gain insights on Equity in Medication Use Quality with our general session that will explore the barriers that lead to unfair and avoidable differences in health outcomes and how can we remove them. We'll hear from a patient, Lilly's Director of Global Health Literacy and PQA Board member Sharon Jhawar.


Hear about COVID-19's Impact on Quality with a general session that will share insights on what happened in the market and which changes in care could positively or negatively impact quality in the future.


Hear about the importance of medication quality in patient-centered, team-based care and the role of pharmacists. Our Value-Based Care general session will discuss real-world examples that are shaping the future of care.


Earn 6.0 contact hours of continuing pharmacy education credit. CE is available for all 12 Focused Sessions, and you can attend sessions for credit live or on-demand through June 11.


Sign up for PQA's Medication Use Quality continuing education and certificate program this month and receive a $50 discount on top of the member rate, as an Annual Meeting attendee. PQA members will receive 15 hours of advanced training for just $175. The code will be shared live with all meeting attendees.


Attend four Innovation Theaters for creative business solutions from four leading vendors: Aspen RxHealth, EnlivenHealth, OutcomesMTM, and Tabula Rasa Healthcare.


Attend a networking reception with PQA Board members and fellow meeting attendees, Wednesday, May 12, at 3:30 p.m. ET.


Relax, do something fun and engage with other PQA members. We have a trivia hour on May 11 at 4:00 p.m. ET and a special musical guest on May 12 at 3:10 p.m. ET.


Attend the Research Symposium on Monday, May 17, to learn about PQA's work in medication access and SDOH and to see presentations on four PQA-funded projects.
Also, don't forget to visit with our meeting sponsors! During the meeting, you can schedule an appointment or meet with them instantly through convenient Zoom rooms. Their support makes the PQA Annual Meeting possible and together they are among our nation's leaders in improving medication use quality.
Share this post: