PQA Publishes 2021 Measure Manual and Value Sets
PQA has published the 2021 PQA Measure Manual and Value Sets. The PQA Measure Manual includes the specifications for PQA measures for measurement year 2020. The manual provides guidelines and detailed specifications, which are needed to implement the measures accurately and appropriately.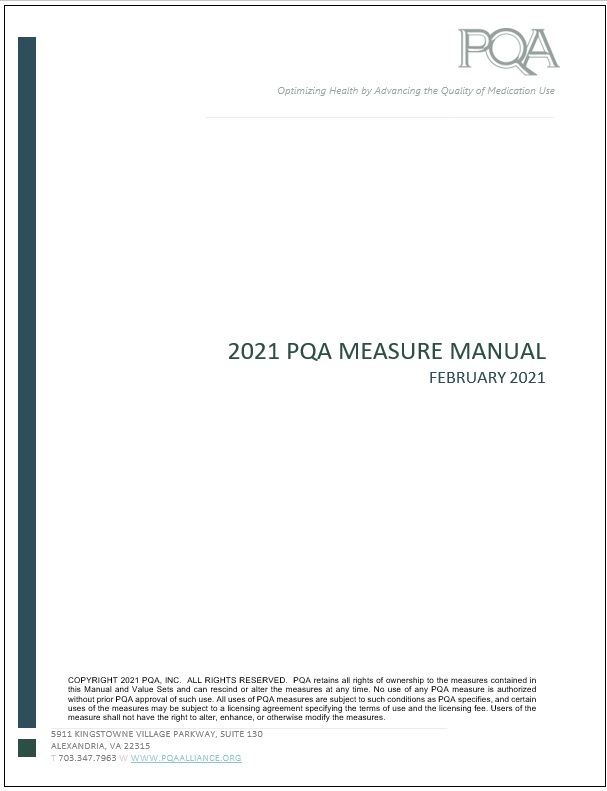 PQA measures are use in a variety of federal, state, and regional quality programs, including the 
Medicare Part D Star Ratings
, the 
Health Insurance Marketplace Quality Rating System
, and the 
Medicaid Adult Core Set
. In addition to retrospective analysis, the 2021 PQA Measure Manual and Value Sets may be used for ongoing monitoring and quality improvement in 2021.
PQA Value Sets, including National Drug Code (NDC) lists, are required to calculate PQA measures as specified. PQA updates the NDC lists twice annually and distributes the lists to licensees of the measures. A subscription for monthly NDC list updates is an available option for licensees to support ongoing monitoring and quality improvement initiatives.
Organizations must enter into a license agreement to obtain approval to use PQA measures. Learn more by reviewing the 
PQA Measure Use and License Policy
. 
There are significant licensing discounts for PQA members; and, as a benefit to PQA members, organizations may request a license for noncommercial use of the PQA Measure Manual for no fee.
For additional information about licensing or for questions about PQA measures, please visit the 
Measure Use and Licensing
 page of the PQA website.
Share this post: