PQA's Pharmacy Measure Development Action Plan
PQA is developing a set of standard pharmacy performance measures that would be appropriate for pharmacy accountability. This work began in early 2019 in response to interest from our members and policymakers in standard measures to evaluate the quality of pharmacies and assess pharmacist-provided care and pharmacy-based services.


The focus of PQA's current work is the Pharmacy Measure Development Action Plan. The draft plan was released August 6 and outlines steps for developing measure concepts that have been prioritized based on their feasibility and usability. PQA seeks comment on the plan now through August 28. The plan builds on work that resulted in three PQA-endorsed pharmacy performance measures.

This blog provides:
some history on the impetus for PQA's work to develop pharmacy measures,  
information on the draft plan and how you can provide comments, and
what comes next in building out a pharmacy measure set.
PQA Member and Policymaker Interest in Pharmacy Measures
Community and specialty pharmacy providers have advocated for the development of these measures to be used in pharmacy-plan and pharmacy-PBM contracting. In the world of federal policy, multiple pieces of legislation and draft regulations have proposed or sought feedback on establishing pharmacy quality measures, particularly under Medicare Part D, including:
The CMS proposal encouraged "the industry to continue to work together on developing a set of pharmacy performance measures through a consensus process" and recognized PQA's ongoing work. None of these proposals have become law or finalized rules yet, but the continuing focus on pharmacy performance measures has informed and encouraged PQA's work.
We believe the measure concepts in our draft Pharmacy Measure Development Action Plan meet the goals of these proposals – in particular their emphasis on a consensus-based process. Our July 21 memo details the components of PQA's multi-stakeholder, consensus-based process, which includes multiple advisory groups and many opportunities member and stakeholder input.
Feedback Sought on the Action Plan
Now is your time to provide feedback on the plan. It features 13 measure concepts that have been prioritized based on data availability and their likelihood of marketplace adoption. Among those concepts, PQA plans to convene three technical expert panels beginning in October 2020 to begin developing measures for:
Clinical Biomarkers for diabetes and hypertension (i.e., A1c, BP), starting with reporting to the health plan and then progressing to improvement and control measures
Composite Adherence measure that would provide one score inclusive of the pharmacy's performance on adherence to RAS Antagonists, Statins, and Diabetes medications
Antidepressant medication management (aligned with the HEDIS measure)
Feedback also is sought on the other measure concepts prioritized for development:
Flu Vaccine Screening
Flu Vaccine Administration
Asthma Controller Therapy
Primary Medication Nonadherence
Abandonment Rate

Early Persistence to Oral Oncolytics

Patient Experience with Pharmacy Services
Pharmacy-Administered Disease Assessment
Screening for Social Determinants of Health (SDOH)
Finally, PQA welcomes input from stakeholders that are capturing or reporting data that could be used to calculate any of the prioritized measure concepts. We would like to hear from pharmacies and system vendors that are able to report data and from health plans and others that are able to receive data. You can submit comments via a form on the PQA website. Comments will be accepted through Friday, August 28, 2020, 11:59 pm ET.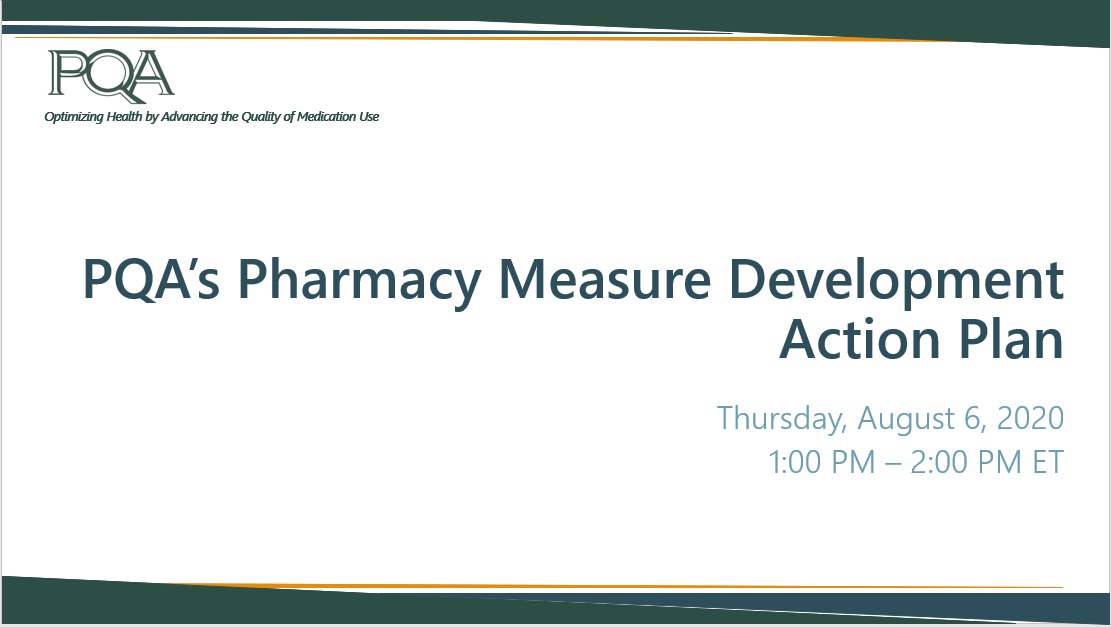 To aid your evaluation of the plan, PQA has several resources:
Next Steps in Building out a Standard Pharmacy Measure Set
Following the comment period, PQA will launch technical expert panels starting in October to begin development of prioritized measure concepts. The goal is to have some measures endorsed in Q4 2021 to add to the measure set that now includes the three measures endorsed in early 2020.
Development will continue on more complex measures. Successfully developed and endorsed measures will be added to the set over time.
Share this post: