Q&A with Jennie C. on PQA's Medication Use Quality CE Program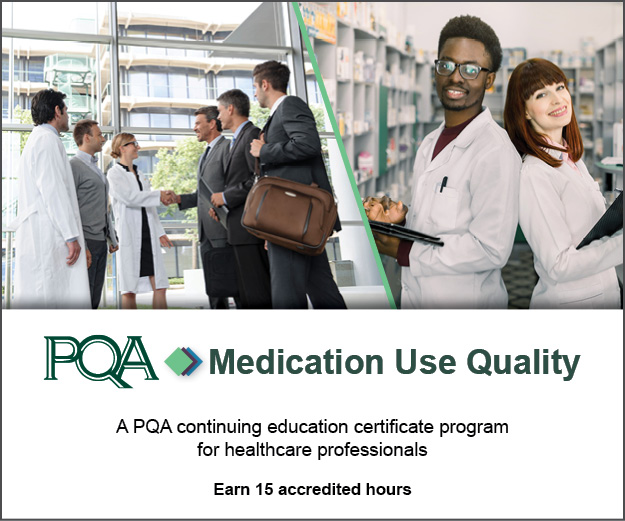 Medication Use Quality is an online PQA continuing education and certificate program for healthcare quality professionals, who are working to improve patient outcomes through safe and appropriate medication use. The program empowers professionals to understand and implement effective quality improvement programs across the healthcare industry.
This blog is one in a series sharing information about the program and the people involved – including professionals in the field, who are using it to expand and sharpen their quality improvement skills.
Jennie C. is a consulting pharmacist in clinical informatics for a pharmacy benefit management company. She received her undergraduate degree in Pharmacy and doctorate in Pharmacoeconomics and Health Outcomes Research. After several years practicing pharmacy in various settings and pursing her passion in healthcare quality and analytics in the public health sector, she returned to pharmacy practice in managed care.
Jennie recently completed PQA's Medication Use Quality certificate program. She shared with PQA communications intern Kate Starr her experience with the program.
What goals in particular were you hoping to accomplish by pursing the PQA Medication Use Quality CE program? 
By pursuing the PQA Medication Use Quality CE Program, my goals were to gain a broad overview of improving quality of care in pharmacy practice; and a comprehensive review of quality improvement (QI) principles I learned in previous roles. I also wanted to become familiar with current best practices for QI in healthcare, specifically in medication use. Finally, I hoped to learn about reliable information and data sources to continue education in this research and practice area, to stay up to date on what's new.
Overall, my aim was to have a strong foundation of knowledge and skills for applying best practices to improve medication use quality.
What was the biggest take-away from the program, and how do you see this applying in your current role?
The biggest take-away from this program for me is how much we pharmacists can contribute to help improve quality of health care, way beyond our traditional roles in retail, hospital, and clinical settings. In addition, there is a lot of useful information and resources available and easily accessible online. I have gained a greater appreciation of the amount of work involved in developing quality measures; how the different organizations that develop, endorse, or oversee the measures; how to apply them properly; and how to communicate with my colleagues better, with common and easy to understand terminology (e.g., member's adherence rate as PDC, proportion of days covered vs Population adherence rates, for a health plan, or PBM).
What I learned from this program has already helped me to better understand the quality measures we are currently using and how to apply use of them, to generate potential QI projects with my QI colleagues, and to gain greater confidence in practice QI principles in my day to day activities.
How was your experience with the live session? Did you find that it enhanced the program?
The live session was extremely beneficial, and it did enhance the program. The small group and flexible scheduling worked well for my work schedule. The parts I enjoy the most are the guided questions and open discussions with the other participants about their experiences. It helped to reinforce how challenging yet rewarding QI is, especially for improving medication use quality. It enhanced the program because I got to talk about the topic with others. It was well facilitated. The facilitator helped keep us on track while encouraging open discussions.
Based on your experience, are there certain health care professionals who you think could benefit from this program? Who would you recommend this for in terms of the role the individual has in health care system? What types of individuals within an organization would benefit from this type of program to support their quality initiatives? 
A resounding "Yes!" I plan to share my experience in the certificate program with my QI colleagues and encourage them to participate. Any pharmacists who are part of a healthcare organization team that is responsible for QI and who wants QI to be a larger part of their job can benefit from this program - More importantly, any pharmacist or pharmacy technician who are passionate about QI. This is another way for pharmacists and pharmacy technicians to be an integral part of any healthcare quality improvement team.
Is there anything else you would like to add about your experience with the program?
I really enjoyed the interactions with the staff, ranging from asking questions about the program to the facilitation of the live session, and sharing my experience with this certificate program with others.
The structure of this certificate program, with the webinars divided into short segments interspersed with additional readings and short YouTube clips, enhanced and reinforced the basic principles and examples presented in the webinars. The latter activities broadened my awareness of resources I can use going forward.
Prior to this program, I had not been able to find a good, comprehensive resource to help me get up to speed and continue to build on my knowledge and skills in QI as I don't consistently practice it in my job. And bonus, I get Pharmacist CE credits.
I look forward to participating in more future educational opportunities like this one from PQA.
Share this post: