The Congressional Social Determinants of Health Caucus
Rice, Romania, rugby and rum. They each have their own congressional caucus. They are among more than 450 active caucuses, which provide visibility and advocacy for a variety of issues and policies. Caucuses date back to the 1880s but they have proliferated in recent decades. 
Last year, Representatives Cheri Bustos (D-Ill.), Tom Cole (R-Okla.), G.K. Butterfield (D-N.C.) and Markwayne Mullin (R-Okla.) launched the bipartisan Congressional Social Determinants of Health (SDOH) Caucus. 
This is an important endeavor because SDOH – the conditions in the environments where people are born, live, learn, work, play, worship and age – have a major impact on health, well-being and quality of life. 
The caucus will explore opportunities to improve the impact of services delivered to address social determinants with the support of federal funding. It will work to amplify evidence-based approaches to holistic well-being.  
Congressional responsibility for SDOH is spread across many committees and SDOH programs are managed by many federal agencies, so the caucus is an opportunity to promote coordination to improve health outcomes and maximize federal investments in health, food, housing, transportation and other important drivers of health.  
PQA applauds the caucus and its leaders for elevating SDOH as a critical national issue.  
SDOH is a priority for PQA because medication cost, literacy, transportation and other SDOH issues impact a patient's ability to access medications and use them safely and effectively. When you think about measuring medication adherence and other patient outcomes, addressing SDOH can help achieve better performance.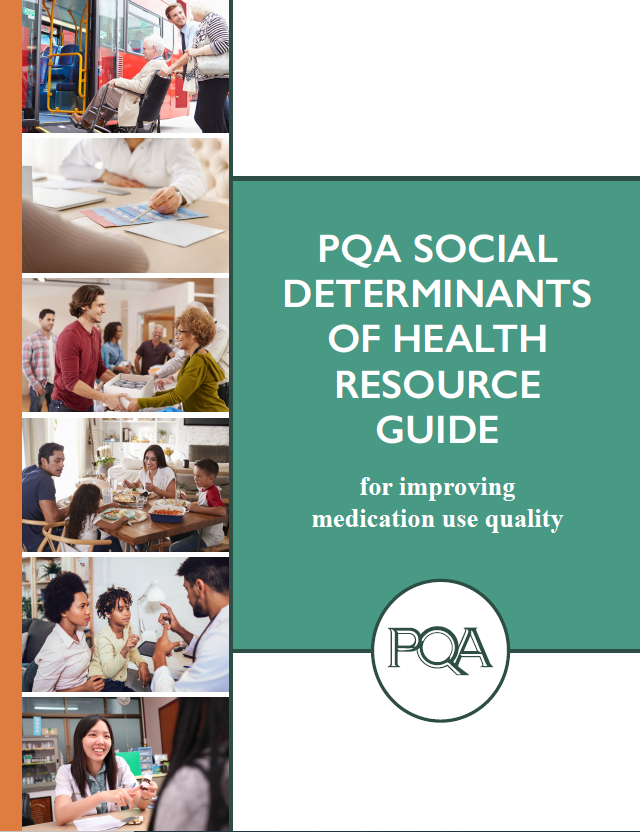 PQA CEO Micah Cost wrote to the caucus chairs this month to explain the importance of SDOH to PQA's work and to share our new SDOH resource guide.  
"PQA is committed to fulfilling our mission of optimizing medication use quality as it relates to SDOH," Cost wrote. "Addressing health disparities and ensuring health equity are priorities for PQA because of their impact on medication access, safety and appropriate use." 
In addition to the guide, Cost noted PQA's other work and initiatives to address SDOH and  broader issues around health equity: 
Read Cost's complete letter here. 
PQA is glad to see a growing focus on SDOH across health care and looks forward to sharing with policymakers and other stakeholders updates on our contributions. We look forward to being a partner in the national effort to address SDOH and improve the quality of care for all Americans. 
Share this post: