Diverse Voices in Quality: Michelle Juhanson
Diverse Voices in Quality is a PQA blog series that showcases the successful career paths and experiences of medication use quality professionals from diverse groups at PQA member organizations. A part of PQA's Diverse Quality Leaders Program, this series celebrates the achievements of our members who reflect our nation's diversity and provides everyone with insights and inspiration for becoming a leader in quality.
The second blog in this Q&A series features Michelle Juhanson, CHC, CHPC, who serves as Vice President, Chief of Staff II, Government Programs, at Prime Therapeutics and Magellan Rx Management. Juhanson is a panelist on PQA's Health Equity TEP. She also is a member of AHIP's and PCMA's Health Equity Work Groups. Juhanson has more than 20 years of managed care and 15 years of Medicare and Medicaid compliance and quality experience.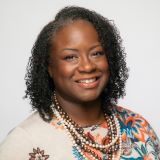 Tell us about your work and role at Prime Therapeutics and Magellan Rx Management?
I have the pleasure of serving as VP, Chief of Staff II, under Vikki Ahern, SVP, Plan President Medicare Part D. Participating in PQA meetings – and being as contributory as possible – led to the relationship with my current boss. My time in my current role has been a dream. I care deeply about Medicare beneficiaries and care deeply about ensuring they get what they deserve and have been promised. I also care about and aim to help companies provide care without compromising financial stability.
Tell us about your background and how you became involved in medication use quality.
I started off with a career in compliance and quality, which is how I became a part of PQA. I attended a CMS Star Ratings Conference in 2008, and I met Jonathan Blum, who worked at CMS. During the conference, I asked who was involved in creating these medication use quality metrics, and Jonathan shared that the work came from PQA. I scribbled down PQA and wrote a manifesto about how my organization needed to be involved in quality. The power to use data to effect change for companies and improve the health of millions and millions of beneficiaries and finding common ground around medication use quality is pretty exciting.
What opportunities through PQA have helped you grow professionally or strengthen your approach to quality?
I enjoy the collaborative process that PQA uses to bring many stakeholders together to determine how and what to measure. Since my initial involvement with PQA, I haven't looked back. One of the greatest joys in my career was when my organization, Granite Alliance Insurance Company, won the PQA Laura Cranston Quality Improvement Award. I always wanted to go on stage to get a PQA award, but it meant the world to be acknowledged for the work my team completed. I had the chance to be involved in the Beneficiary and Caregiver Advisory panel – one of my favorite experiences with PQA. I'm excited that one of my colleagues and I will be on the PQA Health Equity Technical Expert Panel to continue my work with PQA.
What drives you to be successful?

As a breast cancer survivor, before my diagnosis, I would have mentioned my drive to be based on my competitive nature and desire to be the best at something to represent my family and hometown in the best way possible. I just liked doing a good job.
My breast cancer diagnosis ended up being a wonderful experience. I finished chemotherapy in January 2020, had surgery in March 2020, and finished radiation in June 2020. I went through COVID as a patient and not as a health policy professional. Based on my experience and what I saw others experience, I wanted to take some of those topics back with me to impact the work that I am doing that may closely impact beneficiaries and the beneficiary experience.
I want to be the voice to speak to the multitude of things patients face while dealing with a frightening condition. Now, my drive is based on my desire to make people's lives better. The biggest compliment is when I can make someone's day. I really want to see people live longer by preventing morbidity and mortality. To see an actual change in quality metrics is extremely rewarding to me.
What advice do you have for individuals who want to be involved in quality measurement and quality improvement?
I recommend getting acquainted with quality organizations: PQA, NCQA, URAC and NQF to learn the industry and what it means from a healthcare perspective. I encourage becoming acquainted with data to understand various topics integral to improving outcomes. An example is using apps like My Fitness Pal to use data to personally measure progress. This app is a quality-based program that includes all sorts of data that we can grasp. You do not have to be a coder, pharmacist, or physician to have impact, but you do need to have a curious mind and speak up.
People who do quality often benefit from support, so to know someone is interested in their work can be rewarding. Send a message, email or text to ask more about their work. Nine times out of ten, that person will be flattered and excited to share the work that they do and what type of opportunities exist. There are many sides and industries in quality: policy, data, etc.
Your skillset can be used in very powerful ways in quality. It's not a one-size-fits-all area and includes a huge amount of diversity in skillset to make meaningful change. Innovation is key. There is no ceiling or basement for quality, if someone has a high moral compass and has genuine curiosity.
Who have been your role models and mentors professionally?
My mom, aunts and uncles are my living role models. My dad and grandparents have passed on and I draw on their love and lessons every day. My ultimate role model is Jesus Christ, who inspires me to care for the poor and underserved, which I have an opportunity to do daily in supporting health equity and social determinants of health in Medicare and Medicaid.
Vikki Ahern has been a role model. Laura Cranston is both a mentor and a friend. [Laura Cranston served as PQA's inaugural CEO from 1996-2021. Her planned transition was announced in 2020 and today she serves as a consultant to organizations across the industry.] A lot of the women in the field of quality, including Alicia Destefano, have been inspirational to me.
Recognizing that our nation's health care leadership has not reflected our nation's diversity, where should today's early career professionals turn for advice, support and inspiration?
I'll challenge this premise as someone in health care leadership. Leadership is dominated by women. Health care leadership does reflect a great deal of diversity as there is no singular box that everyone fills. From a university setting, turn to advisors. If there is someone you respect doing great things, express an interest as people are more than willing to give advice.
Be willing to send a thank you note after meetings. Never burn bridges when leaving a job. Always maintain great working relationships with others. If you are interested in leadership, there are a number of books and free resources that may help (Dale Carnegie, Harvard Business Review, YouTube) to find leadership tips. If you want to be represented, you have to raise your hand and have the humility to listen and the courage to try.
How can the health care industry better support individuals from diverse backgrounds in their careers?
There's a famous expression by John F. Kennedy, "Ask not what your country can do for you – ask what you can do for your country." My grandparents, who escaped Jim Crow in Alabama, and my grandfathers, who fought in World War II, achieved success by drive, hard work and divine intervention. Individuals should ask what they can do and offer and how they can raise their hand to be a part of the solution. Whether it was talking to mentors or bringing items to my organization, all of my great opportunities came because I stepped out on faith and asked a question.
Once you get the opportunity, do not be a fly on the wall. Once you get your foot through the door, move your whole body through and provide value. Closed mouths don't get fed; open your mouth, be brave and have the humility to listen and do work you think is beneath you. You will be able to bring someone else with you. Fortune favors the bold. Be bold.
Share this post: