The Medication Use Quality Certificate is Available for All Knowledge Levels
PQA has released the entire Medication Use Quality continuing education program and Medication Use Quality Certificate, which is a fully updated version of the program that was initially released in 2020.
The updated program consists of the 15-hour Medication Use Quality Certificate and eight individual courses that are 2 to 3 hours each that deliver the certificate program's content in segments for convenience.  The structure of the updated Medication Use Quality program ensures that learners can take courses that are most relevant to their career paths and at a pace that works for their schedules or the entire certificate program. 
The Medication Use Quality certificate is now available for those who want more comprehensive training. It opens with healthcare quality foundations and introduces learners to the current state of healthcare delivery in the United States before continuing onto measurement program foundations, highlighting value-based models of care where measures are implemented as part of measurement programs. The certificate proceeds with foundational information about health equity and social determinants of health in medication use quality. Learners will then explore special topics impacting quality, including health information technology and navigating the quality regulatory environment.
The certificate will guide learners through quality improvement concepts by providing an overview of the Model for Improvement, evidence-based quality improvement strategies, and how performance measures can impact patient care and foster innovation and an overview of today's healthcare quality landscape, including measurement programs beyond the Medicare Part D Star Ratings.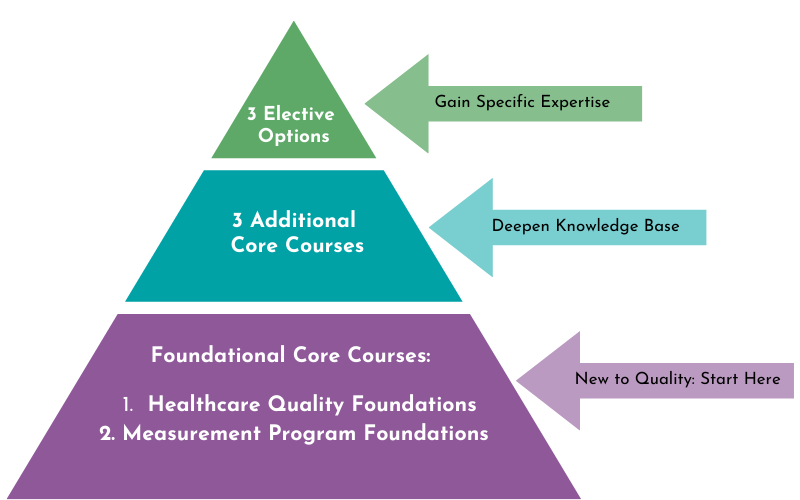 The entire program has three knowledge levels to assist learners no matter where they are in their quality journey.
Those new to the quality space can start with the individual foundational core courses:
Healthcare Quality Foundations
Measurement Program Foundations
The program builds to provide three additional individual core courses:
Three elective individual course options will give learners the ability to gain specific or more technical expertise in topic areas, such as:
Mastering Today's Quality Landscape
The certificate includes all of the individual courses, with the exception of Building Expertise in Calculating Measures and Measuring Quality to Improve HIV Care, which are only offered as independent courses.  To complete the certificate, learners will also participate in a practical application activity, live discussion session and final exam.
These courses are available online through the PQA Education Center and cost between $59 and $79 for individual courses, while the entire certificate is available for $359. PQA members receive a 50% discount.
To access PQA member pricing, please register using the email address PQA has on file, and the discount will be automatically applied at checkout. For additional information, group purchasing opportunities or questions on the program, contact PQA's education team at [email protected]. 
Share this post: