Quality Forum Review: Exploring Food and Nutrition Security's Impact on Quality

The PQA Quality Forum Webinar is a regular, recurring series on healthcare quality topics with a focus on medication use and medication services. It is a forum for educating and engaging with PQA members and quality-focused healthcare professionals.
PQA's July 20, 2023, Quality Forum welcomed Catherine Macpherson, MS, RDN, the Senior Vice President of Healthcare Strategy and Development and Chief Nutrition Officer for Mom's Meals, alongside Jim Kirby, PharmD, BCPS, FAPhA, Chief Commercial Officer for Kroger Health. The presenters discussed their respective organizations' ongoing efforts to achieve food security among diverse patient populations, leading to improved medication use quality.  
Macpherson introduced Mom's Meals, a nationwide provider of medically tailored meals. The organization collaborates with various healthcare entities to cater to patients with chronic conditions, maternal health concerns, food insecurities, etc. These meals provide essential nutritional support and facilitate seamless transitions for newly diagnosed patients with chronic conditions.
She emphasized the impact of nutritional interventions on medication adherence and its importance across diverse populations.  
Studies have shown a connection between food security and cost-related non-adherence in specific patient populations, including:
Low-income individuals

Those lacking prescription drug coverage

Individuals on multiple medications

Persons with multiple chronic conditions
Elderly patients often require food assistance due to their higher prevalence of chronic conditions and potential medication restrictions due to costs.
Macpherson highlighted the correlation between access to meals and the Medicare Part D 2023 Star ratings program. Advancing nutritional support can enhance quality and positively influence the Part D proportion of days covered (PDC) measure, leading to improved star ratings for Medicare Advantage plans. Higher star ratings would enable plans to fund additional supplemental benefits, including medically tailored meal programs.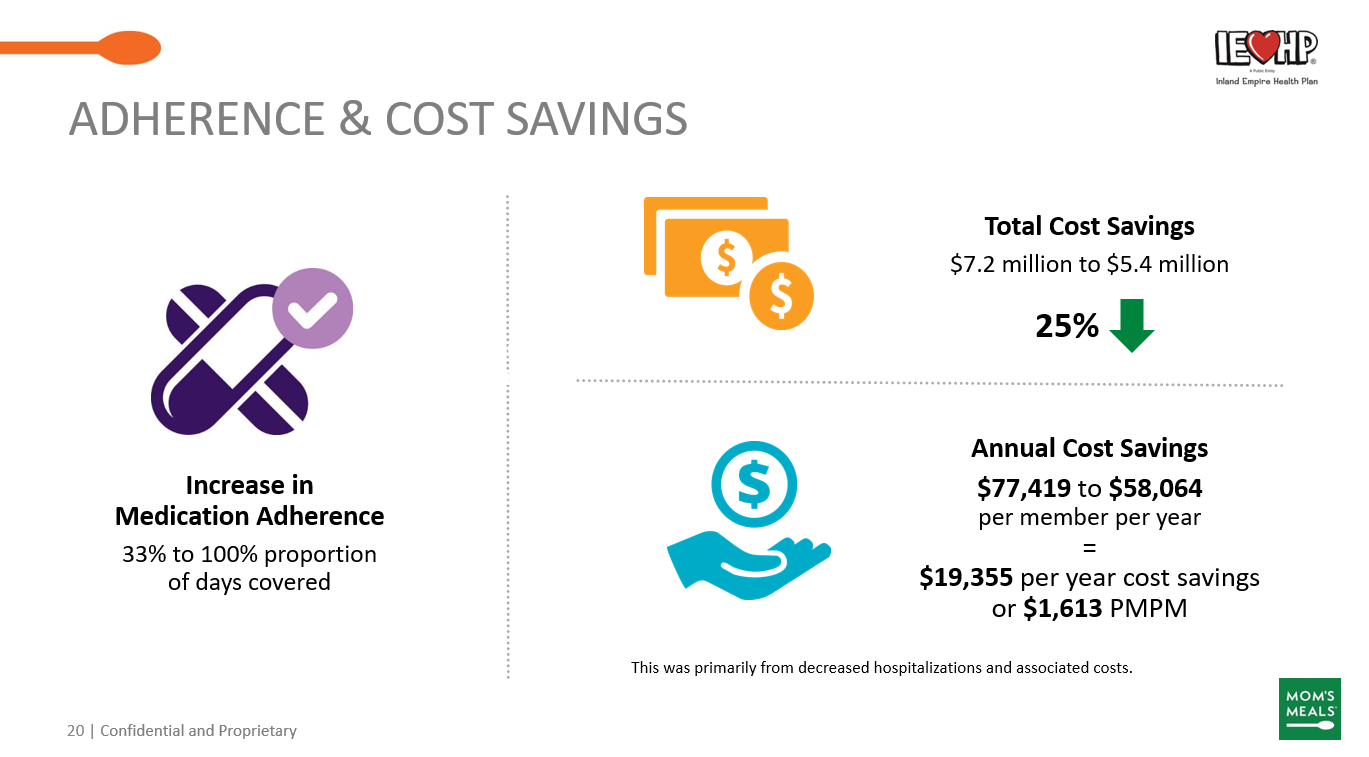 Macpherson presented case studies of successful pilot programs that demonstrate the food as medicine concept and the impact of medically tailored meals on medication use. For six months, one program in partnership with Inland Empire Health Plan (IEHP) provided Mom's Meals and in-person healthcare visits to dual-eligible members with congestive heart failure. This program significantly improved medication adherence, increasing the PDC measure rates from 33% to 100%, resulting in a 25% decrease in total healthcare costs for the health plan. 
Another program focused on providing meals and education to patients with diabetes, showing a 27% increase in per member per month (PMPM) prescription billing, indicating increased fill volume and improved medication adherence. Despite increased prescription billing, there was an overall 32% reduction in the total cost of care, lowering PMPM from $1,339 to $911. Thus, food security positively impacted medication adherence, medication quality, and Medicare star ratings.
Kirby followed with challenges in the U.S. Healthcare system, where the Centers for Medicare and Medicaid Services (CMS) spent an estimated $4.3 trillion on programs in 2021. Recognizing the role of food as a solution is crucial as suboptimal diets contribute to one out of every five deaths globally. Enhancing access to nutritious food becomes essential in reducing the risk of chronic diseases, as highlighted by the impact of the COVID-19 pandemic on vulnerable populations.  
The factors influencing dietary intake and outcomes are complex and individualized. Kirby affirmed that healthcare professionals can assist patients by altering behaviors and providing social support. Large-scale grocers are uniquely positioned to leverage their healthcare professionals to influence consumers' food choices and address various chronic conditions.
He noted the significance of adopting an individualized approach to eating for the successful implementation of food as medicine. This concept extends beyond merely consuming nutritious produce and encompasses the positive energy and outcomes food can evoke, significantly impacting overall health.
Kroger Health's approach to addressing food insecurity includes the following strategies:
Customers may access "OptUP", an online tool that rates foods to assist decision- making and gauge health behaviors.
Kroger Health's registered dietitians offer telenutrition services and provide Medical Nutrition Therapy to prevent or manage chronic disease states.
Health care professionals educate customers and raise awareness about food benefit cards and related resources.
Clinicians can also participate in a free continuing education program to learn about the retail interdisciplinary model of care.
Kirby supports an interdisciplinary approach to tackling food insecurity, emphasizing the importance of healthcare professionals educating patients about available community resources and offering support to empower them in managing their nutrition and medication needs.
You can listen to the full recording of this Quality Forum Webinar, a one-hour presentation with audience Q&A, on PQA's YouTube channel. PQA members can access the presentation slides in the Member Resources Library.
Tonisha Gaitor, a Class of 2026 Doctor of Pharmacy student from The University of Georgia, is a PQA Summer Executive Intern.
Share this post: