Quality Forum Review: Pharmacy Quality Solutions (PQS) Trend Report in Pharmacy Quality for 2022
The PQA Quality Forum Webinar is a regular, recurring series on healthcare quality topics with a focus on medication use and medication services. It is a forum for educating and engaging with PQA members and quality-focused healthcare professionals.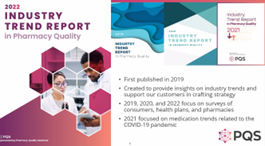 PQA's February 16, 2023, Quality Forum welcomed Andrew Thorne, PharmD, MS, Senior Manager, Data Analytics at Pharmacy Quality Solutions (PQS), to provide data insights into the PQS Industry Trend Report in Pharmacy Quality for 2022. The report results are based on consumer, pharmacy, and payer surveys related to medication-related healthcare quality performance and perceptions of pharmacist-provided services.
Thorne opened by conveying the efforts behind the Trend Report to create more consistent language relative to trends in pharmacy and medication use quality to enable data to incorporate perspectives from all stakeholders-- from patients, pharmacies, and payors.
The goal for the 2022 report was to learn how consumers engage with pharmacy and where there are opportunities to improve identified the following focus areas:
Consumer perceptions of pharmacy
Utilization of pharmacy
Utilization of specific pharmacy services
PQS received a total of 800 responses, with a small subset being removed if they gave strong evidence of lacking data integrity or were incomplete. Respondents of the 2022 report were surveyed in March 2022.
The first chapter focused on questions assess respondents' perceptions of pharmacists. One surprising trend was whether respondents had received a vaccination at the pharmacy. In 2022, they anticipated an increase in vaccinations at pharmacies, given community pharmacies' efforts to administer COVID vaccinations. The difference they saw, however, was less than they expected, but there was an uptake of vaccines received.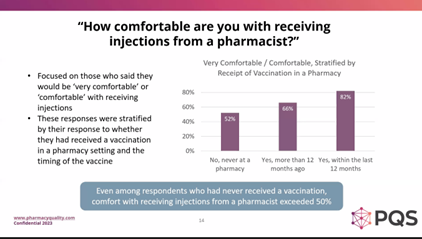 Additionally, the survey inquired about patient comfort levels, intending to stratify respondents who told them they would be comfortable receiving a vaccine at a pharmacy by whether they had received a vaccination.
Even among respondents who had not received a vaccination, comfort was over 50%. Patients uncomfortable with injections still received vaccines in a pharmacy. There was a reasonably large pool of people comfortable getting vaccinations in the pharmacy but who did not receive one.
Several questions were introduced to the survey in 2022, such as the COVID-19 pandemic from the patient perspective. One example asked about comfort level with receiving healthcare in a pharmacy and if it had changed since COVID-19. Over half said their comfort level did not change compared to before the pandemic, while 26% of respondents reported feeling more comfortable, and 22% reported feeling less comfortable.
Thorne explained that these results show two trends with opposing effects:
After COVID-19, more patients received vaccines and testing at pharmacies, which may have increased patient comfort with pharmacists and provided them with a good experience.
Patients became more aware of how communicable diseases spread, and therefore, patients were more cautious about public and health care spaces.
One patient stated that their level of trust in pharmacists increased because they were previously "ill-informed" about the role of pharmacists. Such a response indicates a lack of knowledge about the capability of pharmacists to perform specific tasks. Thorne believed we saw increased patients' trust in pharmacists after the pandemic.
The second chapter surveyed pharmacists and focused on reimbursement and preferences of reimbursement capabilities to track labs and to support outcomes-based initiatives and other testing. The answers represented a staff-based perspective and a willingness and readiness perspective. Thorne mentioned that the survey distribution included mail orders and specialty pharmacies and saw an increase in independent pharmacy respondents.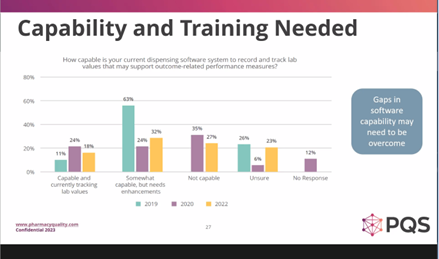 Thorne felt that answers regarding software and staff training implied gaps in software capabilities that would need to be addressed for a program's success. Software updates can be difficult, costly, and time-consuming since software may not be in-house and require a third-party company.
The final chapter focused on payers' perspectives on the challenges for success and performance improvement and partnerships with community pharmacies. Thorne explained that answers to these were "select all that apply" and may add up to over 100%. The 2022 survey saw an increase in the number of PBM/PBA health plans that were represented.
Thorne noted that improvement challenges listed by most payers included: understanding which interventions have the greatest impact, aligning quality improvement within the organization, and determining how to focus limited resources on the most critical opportunities. Similarly, these same three challenges were identified by the same payers as being the ones with the most success. Thorne felt that this was encouraging because although there are significant challenges, focusing on them has brought a lot of success. All in all, Thorne felt that questions from this chapter captured how many opportunities exist for payers and pharmacists to work together on quality improvement.
You can listen to the full recording of this Quality Forum Webinar, a one-hour presentation with audience Q&A, on PQA's YouTube channel. PQA members can access the presentation slides in the Member Resources Library. 
Morgan Jones, a Class of 2023 Doctor of Pharmacy student from Mercer University College of Pharmacy is a PQA Advanced Pharmacy Practice Experience student. She completed her graduate studies at Harding University in Searcy, AR and the University of North Florida in Jacksonville, FL. She pursued her Doctorate of Pharmacy and Master's of Public Health at Mercer University's College of Pharmacy and College of Health Professions in Atlanta, GA. Morgan will be pursuing a Post Graduate Year-1 (PGY-1) Residency at Howard University Hospital enabling her to work as an acute care clinical pharmacist in a hospital and also teaching pharmacy courses at a nearby university. 
Share this post: