Quality Forum Review: PQA's Expanded SDOH Resource Guide
The PQA Quality Forum Webinar is a regular, recurring series on healthcare quality topics with a focus on medication use and medication services. It is a forum for educating and engaging with PQA members and quality-focused healthcare professionals.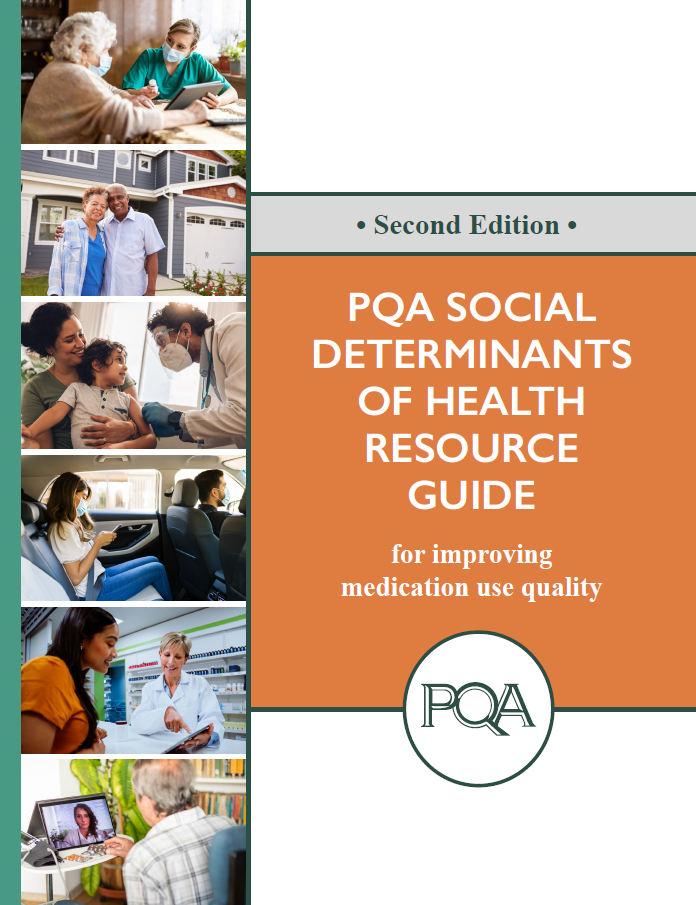 The January 19 PQA Quality Forum webinar welcomed Jacinda Abdul-Mutakabbir, PharmD, MPH, Assistant Professor of Clinical Pharmacy at the University of California San Diego, Dana Erf Fortman, MBA, Director of Health Equity at Walgreens, and Latasha Guy, PharmD, Pharmacy Manager on Special Assignment and Health Equity Execution Lead at Walgreens to speak alongside one of PQA's Executive Fellows, Jasmine Perry, PharmD, CPHQ, to introduce the Second Edition of the PQA Social Determinants of Health (SDOH) Resource Guide.  
The second edition of the guide documents real-world SDOH services that are promising for improving the quality and safety of medication use. Perry has overseen the identification, analysis and documentation of initiatives, as well as the design and launch of the guide.   
This edition details 32 initiatives, including 12 new services and updates to nine initiatives from the first edition. The new initiatives focus primarily on projects started during the COVID-19 pandemic and continue today.  
The examples featured in the guide address at least one of seven SDOH barriers:  
Cost of Medications 

 

Cultural or Literacy Barriers 

 

Decent, Safe and Affordable Housing 

 

Food Security 

 

Screening for Unmet Needs 

 

Social Isolation 

 

Transportation 

 
The goal of the second edition was to feature initiatives that moved beyond identifying and screening for SDOH factors and included aspects of intervention and/or referral for optimal impact. With that in mind, initiatives that featured interventions as the type of service were the most common. 
Many initiatives focused on several SDOH barriers. The primary SDOH areas addressed were cultural or literacy barriers, followed by transportation. Additionally, as a result of the COVID-19 pandemic, we highlighted 13 initiatives focused on social isolation.  
Most of the initiatives occurred in community pharmacies, but nontraditional health care sites came in at a close second. Nontraditional settings included telehealth and telepharmacy interventions, churches, in-home interventions, and outreach clinics across various sites.  
Many services were local efforts to impact SDOH-related barriers to care. From these initiatives, it is important to note that local partnerships often led to efficient and effective screening, referral and intervention.   
We recognize effective categorization of SDOH projects aids in health care professionals identifying potential efforts to reproduce in communities across the U.S. The appendix documents a host of characteristics and subcategories for the initiatives to aid in ease of identification.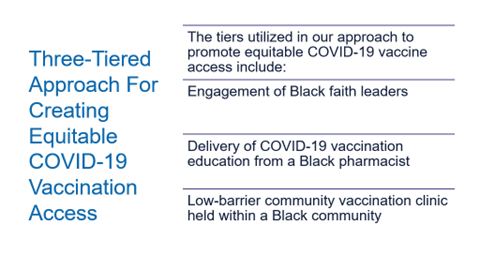 After Perry introduced the guide, Abdul-Mutakabbir outlined her work in collaboration with faith-based organizations, "Utilizing Community Vaccination Clinics to Increase COVID-19 Vaccine Access for Racially and Ethnically Minoritized Groups."  Abdul-Mutakabbir partnered with Congregations Organized for Prophetic Engagement (COPE) and Inland Empire Concerned African American Churches (IECAAC) to implement a three-tiered approach to improve vaccination equity in San Bernardino County, California. The tiered approach focused on the engagement of Black faith leaders, delivery of COVID-19 vaccination education from a Black pharmacist, and low-barrier community vaccination clinic held within a Black community. 
To give insight into the specific details of the vaccination equity initiative, Abdul-Mutakabbir discussed the importance of including various community stakeholders, the workflow used during the vaccination clinics, and integrating student pharmacists into program execution.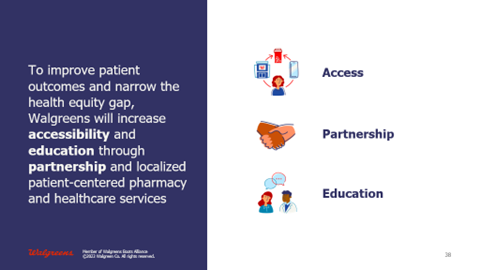 Following Abdul-Mutakabbir, Erf Fortman shared Walgreens's commitment to health equity and SDOH through the three pillars of Walgreens's health equity approach: access, partnership and education. Erf Fortman also detailed Walgreens' four health equity focus areas:  
SDOH

 

V

accination and testing

 

M

edication adherence and chronic care management

 

W

ellness and care

 
Guy continued the conversation by detailing Walgreens's delayed medication pick-up outreach to improve adherence and address social needs. To further Walgreens's efforts to address health equity, delayed Medication Pick-up outreach occurs across all stores chain-wide when a patient has failed to pick up a filled prescription. Guy detailed how the Delayed Medication Pick-up conversations are a unique opportunity to improve adherence and understand prescription abandonment rates. To provide additional insight, Guy shared the Delayed Medication Pick-up patient journey; strategic interventions to improve medication adherence for underserved communities; information about the Chicago Health Equity Incubator, a pilot program launched in 2020 in select stores on South and West Sides to drive community impact; and information about the Health Equity Champions Network. 
PQA will continue to expand the guide and plans to issue a third edition that features additional examples, plus updates for some of the projects already featured, as many of them are continuing expansion efforts.  
The guide is publicly available, and PQA encourages you to share it with anyone. PQA would love to hear how the guide is being specifically used. Please provide PQA feedback via email.  
If you are working on an SDOH initiative that PQA can consider for inclusion, please fill out this form. Anyone can submit SDOH interventions for consideration. To provide PQA with an update on an initiative included in the first or second edition of the guide, please email PQA. 
This activity was supported by an independent medical education grant from Merck & Co.  
Share this post: