PQA's APPE Rotation: Experiential Learning for Pharmacy Students
PQA offers a competitive Advanced Pharmacy Practice Experiential (APPE) Rotation for pharmacy students, which provides experiential learning opportunities in non-profit association management, medication use quality education, communications, research and performance measurement. PQA works with individual students to align their rotation experience with desired career goals and interests. Applications for the 2023-24 year are now being accepted. You can apply here. Visit our Student Programs page for more information. 
Kyra Leonard is one of PQA's 2022 APPE students. This blog shares her interest in the PQA program, her background, goals and experience. Learn more below and consider taking part in PQA's education programs. 
Kyra Leonard
School: University of Georgia College of Pharmacy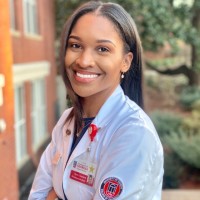 Kyra Leonard is a 4th year PharmD candidate at the University of Georgia in Athens, GA.  At UGA, she has served on multiple executive boards that promote serving underrepresented patient populations or educate students on non-traditional avenues of the pharmacy profession. Her career interests are association management, quality improvement, managed care and other non-traditional career options. In her free time, she enjoys reading, dancing and spending time with her 2-year-old miniature poodle.
What inspired you to complete an APPE rotation in association management?
When I enrolled in my college's PharmD program, I immediately sought to learn more about non-traditional avenues of pharmacy. My program's curriculum focuses little on career pathways outside of community pharmacy and clinical practice.
I have worked in retail pharmacy for over three years. During that time, I witnessed how the undesirable working conditions imposed on pharmacists through corporate leadership made it impossible to interact with and counsel patients adequately based on their pharmacotherapy regimens. I felt a multitude of factors hindered my ability to make a substantial impact in these roles.
Throughout pharmacy school, I have developed a passion for effecting positive change in underrepresented patient populations. I want to accomplish this on a large scale, so I explored career pathways that would provide me with the opportunity to do this. Initially decided on managed care, my current focus is association management after an executive leader of a national organization gave a guest lecture to my organization.
What drew you to PQA and our work to improve medication use safety, adherence and appropriate use?
Although PQA serves as a trusted resource for improving medication use quality through varied initiatives, the company's goal in addressing health equity and SDOH aligns with my main priority as a future pharmacist. I believe that before we address issues impacting equal access to, we must first research the cause behind these factors. Through research and education, the PQA can share their discoveries of disparities in health care with their stakeholders, potential measures to assess the quality of care and potential strategies to alleviate these barriers.
I also considered the immeasurable effect working with the PQA team would have on my developing career. I knew I could not allow myself to pass on an opportunity to grow my professional network with an organization that shares the same goals that I set for myself.
What are your goals for your time at PQA?
Having little knowledge of quality measurement in healthcare, my primary goal has been to establish a basic understanding of quality measurement design. Through this learning process, I wanted to determine whether the field is a proper fit for my talent and interests.
I also want to grow professionally so that I can maintain a favorable reputation, instill trust in my colleagues, and represent myself and my future employer in the best fashion.
Where would you like to see yourself in five years?
I would like to see myself as a contributing member of an executive leadership team dedicated to identifying and addressing health disparities. I hope to have the confidence that every leader should embody to inspire and guide others to perform at their best while advancing the quality of patient care. Equally important, I hope to work in a peaceful environment that allows me a healthy work-life balance.
Tell us something interesting about yourself that's not work related.
After seeing the lack of support for Black students within my program, I started the first predominately Black student organization within the University of Georgia College of Pharmacy dedicated to unifying the Black student body. The Black Student Pharmacist Organization (BSPO) provides a permanent safe space for minority students, coordinates social gatherings to combat the stress of a rigorous curriculum, and offers community service opportunities.  I am honored to have had the vision and support to create such a unique organization that will serve minority student pharmacists for years to come.
Share this post: