Quality Forum Review: The 2021 Trend Report in Pharmacy Quality
The PQA Quality Forum Webinar is a regular, recurring series on healthcare quality topics with a focus on medication use and medication services. It is a forum for educating and engaging with PQA members and quality-focused healthcare professionals.
PQA's February 17, 2022, Quality Forum webinar welcomed Brittany Boyd, MHA, CPhT, Senior Manager, Pharmacy Training and Support, and Andrew Thorne, PharmD, MS, Senior Manager, Data Analytics at Pharmacy Quality Solutions (PQS) to discuss the key findings of the 2021 Industry Trend Report in Pharmacy Quality.
Boyd provided background information on the yearly report developed by PQS. She highlighted that the 2021 report differs from previous reports as it focuses on pharmacy utilization based on the Public Health Emergency (PHE) of COVID-19. National events made an impact on overall volume and activity across pharmacies and included:
Centers for Medicare & Medicaid Services (CMS)
Transitions in Pharmacy
Coronavirus Aid, Relief, and Economic Security (CARES) Act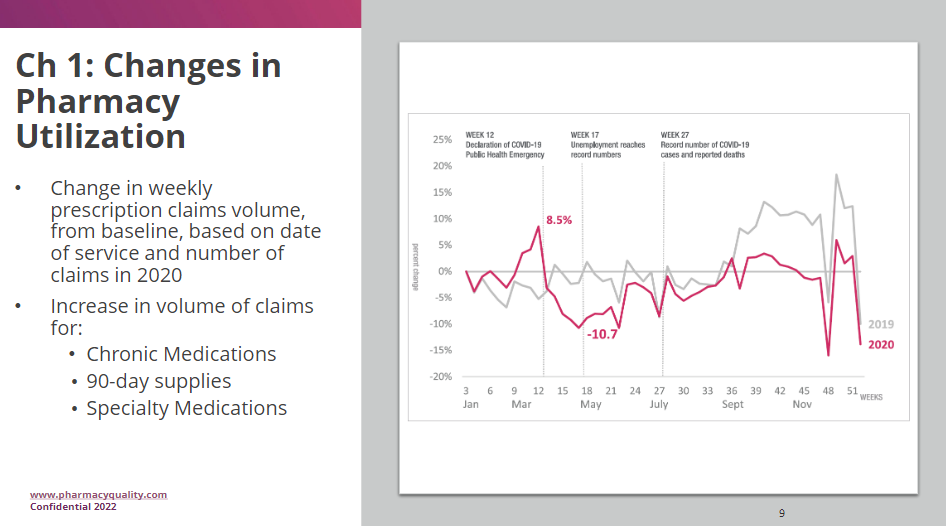 Boyd discussed the report's first chapter, which tackled the weekly prescription claims volume changes from 2019 to 2020. As uncertainty surrounding the pandemic increased in March 2020, pharmacies were flexible with patients with chronic medications prescription claims. The spike in mid-March on prescription claims had a long-term impact throughout the year.
One key highlight was a 25.5% increase in 90-day supply prescription claims, which continued throughout 2020. An additional takeaway was the increase in mail-order prescription claims as health plans relaxed pharmacy limitations during the pandemic.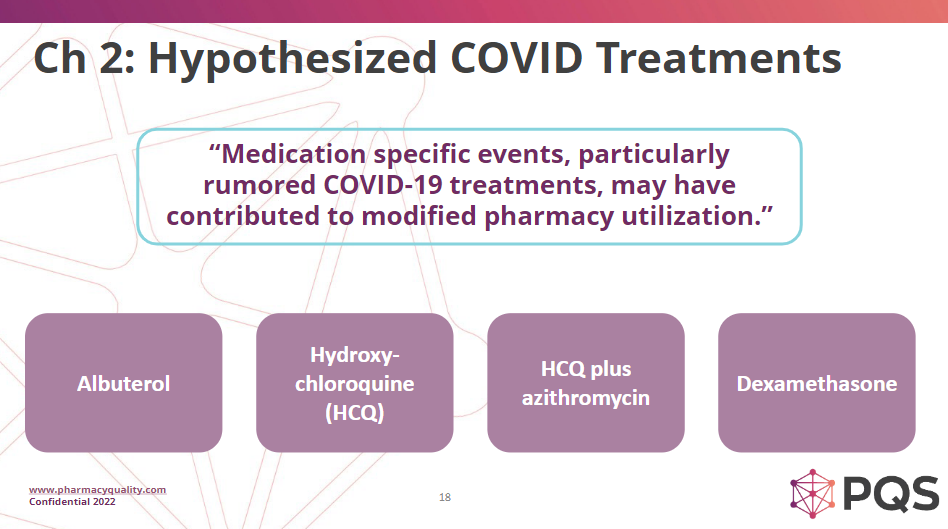 Thorne spoke to the report's second chapter by reiterating Boyd's point that the pandemic changed how patients and providers interacted with their pharmacies. This chapter covered the utilization of hypothesized COVID-19 treatments, which were influenced by the changes in regulation, prescribing practices and employees losing employer-sponsored health insurance.
The four medications addressed were albuterol, hydroxychloroquine (HCQ), HCQ plus azithromycin and dexamethasone, all of which were hypnotized treatments for COVID-19 in 2020. Each medication saw dramatic shifts in utilization, though hydroxychloroquine was the most dramatic and remained elevated throughout the year.
The final chapter of the trend report addressed utilization patterns of medication classes indirectly impacted by COVID-19. The three medication classes with notable effects were antidepressants, anticoagulants and antibiotics. 
Key highlights include an early spike in antidepressants usage that was lower compared to medications discussed in the previous chapters. Overall, antidepressants and DOCA's use was higher in 2020 than in 2019, while antibiotic utilization decreased from 2019 into 2020.
You can listen to the full recording of this Quality Forum Webinar, a one-hour presentation with audience Q&A, on PQA's YouTube channel. PQA members can access the presentation slides in the Member Resources Library.
Share this post: