The Importance of SDOH and Pharmacist Intervention
PQA is investigating the impact of social determinants of health (SDOH) on pharmacy and medication access by using a multi-stakeholder perspective to analyze current gaps in knowledge and interventions that currently exist in pharmacy settings.
Social determinants of health (SDOH) have gained increasing recognition in the healthcare field, especially during the COVID-19 pandemic. The virus disproportionately impacts individuals of certain racial backgrounds and socioeconomic statuses. For example, individuals living in inner-city, low-income housing areas experienced significantly higher infection rates compared to their more affluent, suburban counterparts.
SDOH are the non-medical factors that impact health and, according to the World Health Organization, are "the conditions in which people are born, grow, work, live and age" and include the following five categories:
Neighborhood and Built Environment,
Health and Health care,
Social and Community Context,
Education, and
Economic Stability.
SDOH accounts for up to 90% of health outcomes, whereas medical care only accounts for 10-15% of outcomes. While it is known that SDOH plays a major role in health outcomes, often avoidable, only 24% of hospitals and 16% of physician practices screen for these determinants, due to lack of time, feasibility and infrastructure.
PQA is exploring the role of pharmacists and pharmacy services in addressing patients' SDOH, including SDOH screenings and additional services that address barriers to medication access and increase medication adherence. PQA has fostered relationships with several institutions and stakeholders to address existing knowledge gaps about SDOH in the pharmacy setting.
In partnership with the Texas Center for Health Outcomes Research and Education at the University of Texas at Austin (TXCore), the PQA research team studied the capability of various PQA member organizations, including health plans and pharmacies, in collecting SDOH data and identifying barriers and facilitators in acquiring SDOH information.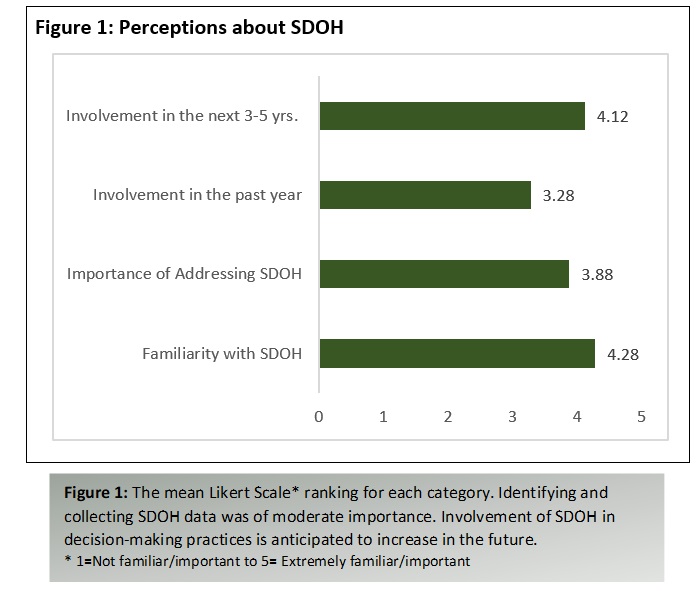 The "Procurement and Use of Social Determinants of Health Data Among Key Healthcare Stakeholders" study assessed stakeholders' experience in collecting SDOH data using an electronic self-report 30-item survey. The study found that identifying and addressing SDOH was of moderate importance and out of a total of 25 respondents, over half (56%) already collected SDOH data. The most documented SDOH categories were economic stability, and health and healthcare, which were also indicated be future SDOH priorities.
The top barriers to collecting SDOH data were lack of standard data format, time and technological capabilities; the top facilitators included value-based payment programs that rewarded addressing SDOH needs and a coding structure or reimbursement mechanism for identification and management of SDOH. After assessing the organizations' perceptions on addressing SDOH, results indicated an anticipated increase in SDOH involvement in the future (Figure 1).  
In addition to studying current trends and gaps in SDOH data collection in pharmacy settings, PQA also partnered with investigators from the University of Arizona to examine pharmacy accessibility in urban communities, focusing on the SDOH area of neighborhood and build environment. Due to disparities in geographic inaccessibility to healthcare facilities, lower income and minority groups have decreased pharmacy accessibility. The "Pharmacy Accessibility in Urban Areas: Development of a Pharmacy Access Model" study described the pharmacy landscape of selected urban communities (Chicago, Ill., and Detroit, Mich.), determined levels of pharmacy access across the pharmacy landscape and examined factors that impact pharmacy accessibility.
Pharmacy accessibility scores, derived from distance and time thresholds, were used to categorize low, medium and high access to pharmacies. The study also found pharmacy accessibility varied by racial demographics and urban area. (Table 1). In Chicago, more non-white census tracts had low pharmacy access, whereas in Detroit, more white census tracts had high pharmacy access (Figure 2).  Factors that contributed to decreased pharmacy access were public transit, walkability, unemployment rate, home values, vehicle access and racial composition.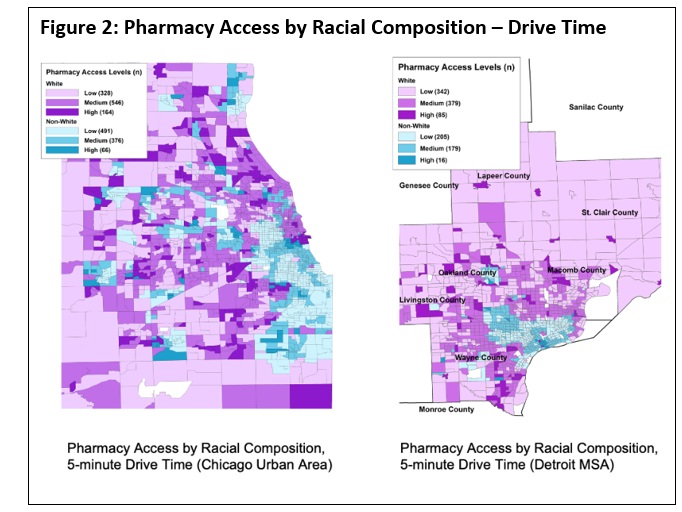 Both studies fill important knowledge gaps on the existing landscape of SDOH and the role of pharmacies and pharmacists. PQA, in partnership with TxCore and University of Arizona, shared the findings to educate pharmacy practitioners, policy makers, researchers and other relevant stakeholders at the 2021 PQA Research Symposium in May 2021, as well as at the 2021 Academy Health Annual Research Meeting.


Megha Parikh, PhD, MS, is a PQA Senior Research Scientist. Nyla Lindo, a master's degree student at the Columbia University Mailman School of Public Health, participated in PQA's MPH Practicum Program this summer.
Share this post: