Quality Forum Review: Prioritizing Pharmacy Measure Concepts for Value-Based Agreements
The PQA Quality Forum Webinar is a recurring series on healthcare quality topics which focus on medication use and medication services. The quality forum creates an opportunity for education and engagement with PQA members and quality-focused healthcare professionals.
PQA's August 5, 2021, Quality Forum brought together a panel of thought leaders from a PQA-Community Pharmacy Foundation (CPF) initiative to identify and prioritize measure concepts that demonstrate the value of community pharmacy practice.
As community pharmacies continue to innovate and offer enhanced services to patients, it is crucial that they can demonstrate their value in the larger health care system. Quality measures are important tools to monitor and drive improvement and are used in payer-pharmacy value-based arrangements to evaluate the impact pharmacy services have on patients' health.
Trista Pfeiffenberger, vice president of product development and customer relationships at Community Care of North Carolina, spoke first on barriers and benefits in implementing quality measures in value-based arrangements.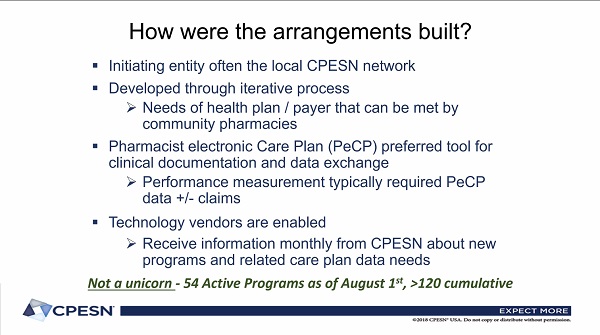 Value based arrangements (VBAs) are not a unicorn, Pfeiffenberger said. The CPESN network has 54 active programs as of August 1, and more than 120 cumulatively. VBAs are developed based on the needs of a health plan or payer that can be met by community pharmacies.
Data documentation and availability for measurement are the greatest barriers to VBA implementation.  Despite this obstacle, VBAs once implemented, Pfeiffenberger said, have provided value to patients and participants through improved team-based care and care coordination, patient engagement, clinical outcomes, connectivity between plans and providers, and the availability of clinical data for reporting and monitoring.
Troy Trygstad, executive director of CPESN USA and vice president of pharmacy provider partnerships for Community Care of North Carolina, addressed the future of VBA implementation. The liquidity and exchange of data is vital for the success of implementing quality measures in VBAs.
Ten years ago, Trygstad said, technology organizations were out front on data issues, followed by providers, but today you see the plans leading. Technology vendors have some work to do to meet the needs of plans as it relates to data exchange.
As the impact of VBA implementation has affected providers' bottom line, Trygstad said, there is greater demand for tools that streamline clinical workflow to integrate necessary information for quality measurement. Additionally, there will need to be a technology catch-up to better facilitate the documentation and sharing of data between entities.
Trygstad predicted there are five essentials for the future success of VBAs:
Decrease the cost per unit of outcome measurement in VBAs by scaling and improving the availability of tools, standards and technology.
Improve matching between purchaser networks and provider networks.
Use provider status and fee schedules as a base on which to build VBAs.
Improve efficiency of provider workflow to reduce non-essential documentation and administrative burden.
Strategically utilize information technology (IT) to catalyze efficiency of moving pieces of VBAs.
Todd Sorenson, professor and senior executive associate dean of the University of Minnesota College of Pharmacy, and executive director for the Alliance for Integrative Medication Management, described his experience of implementing quality measures in VBAs through the HealthPartners MTM Partners in Excellence Program.
The HealthPartners program uses a payer-provider partnership for medication therapy management (MTM), where health care providers, typically pharmacists, aim to improve outcomes by helping people better understand their health conditions and the medications used to manage them. Implementation of MTM in their pay for performance program led to improvements in diabetes and blood pressure control, patients feeling more confident and satisfied with their services and a three-to-one return on time for commercially insured members. However, there were still challenges with overall member engagement and program execution.
"Just offering a payment program for these clinical services was not enough to move the needle," Sorenson said. "It did not create engagement."
To improve engagement, several tools were used, including the creation of patient registries, implementation support structures, and structured provider training and community learning. Sorenson agreed that improving IT infrastructure and clinical data accessibility were instrumental in overcoming their setbacks with engagement.
Samm Anderegg, a pharmacist and chief executive officer of DocStation, detailed how technology can improve care delivery and outcomes and decrease cost.
"I think the role of technology is to make all these inefficient processes much more efficient, so we can get down to business," Anderegg said. DocStation is a software platform and practice management system that helps pharmacists and health plans run value-based programs. DocStation can implement nine out of 10 quality measure concepts prioritized by the PQA-CPF initiative for use in pilots and future VBAs.
Anderegg said technology plays an essential role in VBAs for its ability to:
capture data unavailable in claims at the point of care that can be used to calculate measures,
monitor, aggregate and transfer performance data in real time, and
streamline administrative and management of VBA implementation programs.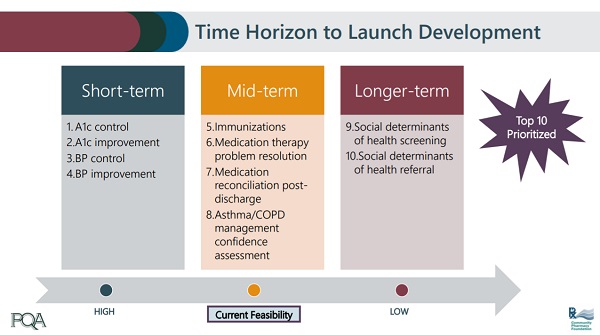 For the prioritized measure concepts that are most ready to move forward to full development, PQA will begin launching measure development technical expert panels in early 2022. For other prioritized concepts, pilots offer an opportunity to refine draft measure concepts and to overcome feasibility challenges.
The full recording of this Quality Forum Webinar, a one-hour presentation with audience Q&A, is located on PQA's YouTube channel. PQA members can access the presentation slides in PQA's Member Resources Library. 
Share this post: