The Patient Voice in Medication Therapy Management
The PQA Quality Forum Webinar is a recurring series on healthcare quality topics which focus on medication use and medication services. The quality forum creates an opportunity for education and engagement with PQA members and quality-focused healthcare professionals.
PQA's June 10, 2021, Quality Forum discussed the voice of patients in medication therapy management (MTM).
Experts from OutcomesMTM and Walgreens joined a patient advocate to explore the MTM experience from the patient perspective and share methods used by health plans and providers to measure how patients feel about the MTM services they receive.
The Centers for Medicare & Medicaid Services continue to emphasize patient experience in Medicare plans and is increasing weight of patient experience measures in the Star Ratings program.
Dani Markus, PharmD, MBA, vice president of product and quality at Outcomes MTM, explained the impact of these changes.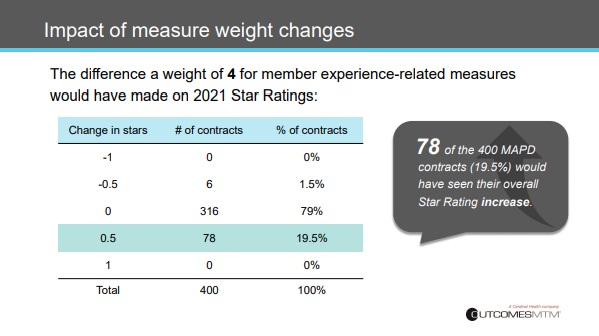 Only 36% of Star Ratings measures relate to member experience, but they account for 57% of a plan's overall Star Rating, Markus said. Beginning with the 2023 Star Ratings, those measures will be quadruple weighted. This is a significant change.
To illustrate the impact, if you applied this new weight to the 2021 Star Ratings, 19.5% of Medicare Advantage prescription drug plan contracts would have experienced an increase in their overall Star Rating.
A comprehensive medication review (CMR) evaluates all of a patient's medications and patient-specific information that could identify medication-related issues. The encounters are conducted in person, by phone or online between a patient and pharmacist. Once evaluations are completed, action plans are developed and patients are periodically reassessed.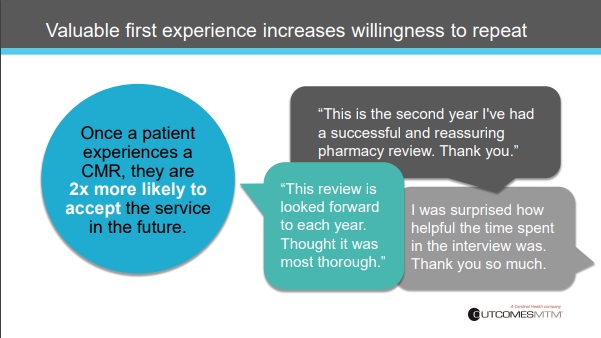 CMRs are positive member experiences, according to OutcomesMTM surveys. More than 80% of patients surveyed rate the CMR experience as a 4 or 5 with 5 being the highest rating.
Patients value a pharmacist's willingness and ability to answer their medication-related questions and provide clarity on how to use their medications, Markus reported. Additionally, patients reported feeling more confident in managing their medications at home because of the CMR session, and patients are twice as likely to accept future services if the first experience with a CMR session is positive.
Stacey Emmons, PharmD, Walgreens' director of patient outcomes performance and adherence, described her company's work to provide high-quality care and support that will increase medication adherence, patient wellbeing and care satisfaction.
Emmons said pharmacists are in a key position to provide personalized care through an omnichannel experience that leverages technology, but also provides a human touch. More than 15 million patients receive personalized care at Walgreens annually, which Emmons defined as the patient having a choice and control over what is planned and delivered with their care.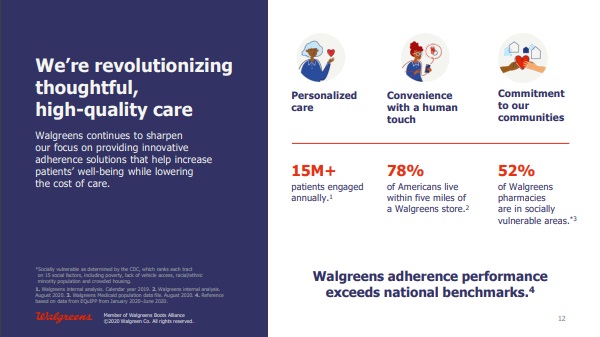 78% of Americans live within five miles of a Walgreens store, and 52% of those pharmacies are in socially vulnerable areas. As with other community pharmacies, Walgreens is well positioned in the community to reduce gaps in care, improve outcomes and lower overall healthcare costs.
Walgreens has evolved its MTM process to achieve higher completion rates. Walgreens incorporated MTM into its clinical platform to streamline and improve pharmacists' daily workflow.
The company also expanded its MTM capacity by creating centralized services and MTM support pharmacies to provide additional outreach capacity. That allows for chain wide MTM capabilities in all markets. To make things easier for patients, Walgreens displays a local pharmacy phone number in its MTM service platform. That has expanded patient reach by 15%.
Richard Erickson, a patient advocate and person with diabetes shared his experience with MTM. He was diagnosed with diabetes in 2006, which was linked to Agent Orange exposure during his service with the United States Marine Corps in Vietnam.
Erickson initiated and facilitated in 2010 a diabetes support group with HealthPartners, which on average has 6-12 members each year. HealthPartners is an integrated, nonprofit health care provider and health insurance company in Bloomington, Minn., which specializes in hospital care, pharmacy care and promoting overall healthy living.
Erickson began working with PQA in 2017 as a patient partner, when he began using MTM services to manage his diabetes. Erickson's A1c, a measure of blood sugar, was 9.0% at the beginning of his MTM experience. A level of 6.5% or more indicates diabetes.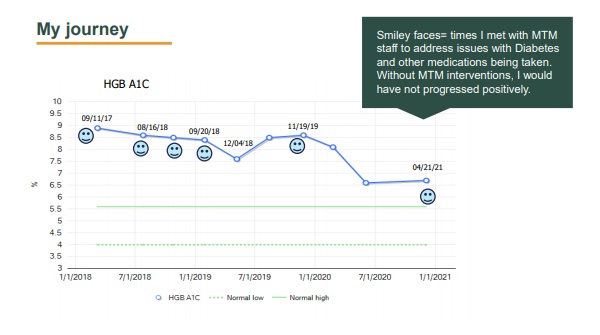 He experienced A1c decreases while having access to MTM services due to the proactive interventions made. He experienced A1c spikes when he did not attend his MTM sessions. MTM services helped Erickson lose thirty pounds, which contributed to better A1c and blood glucose control.
Erickson shared his insight that a patient struggling with diabetes can feel frustrated and discouraged when they do not have anyone to help guide them. MTMs bring encouragement and clarity to diabetes care for patients, he said. His story demonstrates that MTM care is having a lasting impact on health care and efforts to achieve optimal patient care.
The full recording of this Quality Forum Webinar, a one-hour presentation with audience Q&A, is located on PQA's YouTube channel. PQA members can access the presentation slides in PQA's Member Resources Library. 


Mason Johnson, a Class of 2022 pharmacy doctoral student at East Tennessee State University's Bill Gatton College of Pharmacy, is a PQA Advanced Pharmacy Practice Experiences (APPE) student.
Share this post: