Quality Forum Review: Implementing Sustainable SDOH Programs in Community Pharmacies
The PQA Quality Forum Webinar is a regular, recurring series on healthcare quality topics with a focus on medication use and medication services. It is a forum for educating and engaging with PQA members and quality-focused healthcare professionals.


PQA's April 22, 2021, Quality Forum welcomed a panel of experts to discuss implementation of sustainable social determinants of health (SDOH) programs in community pharmacies. Initial efforts have been promising, and presenters noted the need for more research, specifically in reimbursement.

David Jacobs, PharmD, PhD, an assistant professor in the Department of Pharmacy Practice at the University of Buffalo, began the conversation by defining SDOH in community pharmacy.

Jacobs said SDOH are non-medical factors that influence health outcomes and is defined by the World Health Organization as "conditions in which people are born, grow, work, live, and age." The five categories of SDOH are:
Neighborhood & Built Environment
Health & Health Care
Social & Community Context
Education
Economic Stability
 "Social determinants of health are drivers of health care utilization and costs," Jacobs said.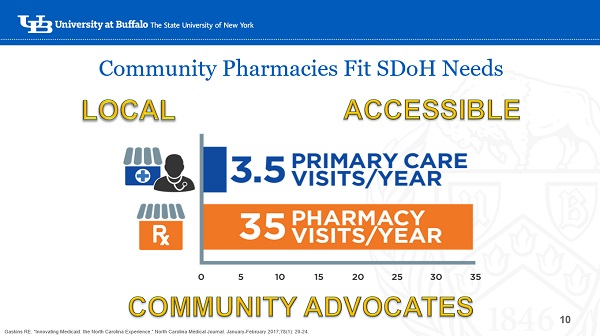 Community pharmacies are local and accessible community advocates poised to be the ideal setting for SDOH interactions, since 90% of Americans live within five miles of a pharmacy. Individuals visit pharmacies 10 times more frequently than primary care providers. Community pharmacies can offer SDOH enhanced services.

One community pharmacy SDOH model involves community health workers who are certified frontline public health workers and can provide care management, circumvent barriers, speak on behalf of patients and be integrated as staff in community pharmacies. A second model involves SDOH specialists who are pharmacy technicians or drivers and are trained to identify, screen and refer patients to SDOH resources, while assessing opportunities for interventions and following up for maintenance.

Christopher Daly, PharmD, MBA, BCACP, a clinical assistant professor in the Department of Pharmacy Practice at the University of Buffalo, discussed the SDOH specialist pilot program based in eight Community Pharmacy Enhanced Services Network (CPESN) independent pharmacies in Albany, N.Y.

Daly outlined the workflow for the pilot beginning with training pharmacy staff to identify and screen for SDOH by implementing "trigger questions," then training staff to assess and refer patients to the appropriate resources and create a care plan, ending with follow up. Trigger questions assist in identifying when a patient has an SDOH need and include topics such as food insecurity, utilities and bill payments, stable housing, childcare, healthcare costs, transportation, health literacy and safety.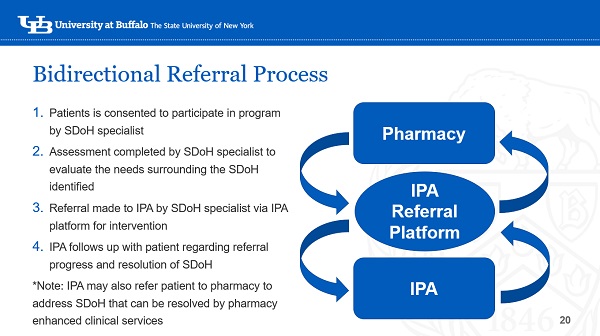 This pilot utilized a bidirectional referral process with assessment and referral to an IPA (independent physician association) completed by a SDOH specialist through an innovative referral platform. The IPA follows up about resolution and can refer the patient to a community pharmacy to address SDOH issues that can be resolved by pharmacy enhanced clinical services.

This pilot featured a performance incentive payment model, with the goal to generate feasibility and fidelity data for payers to analyze, while engaging payers to pay for pharmacy enhanced services and promoting community pharmacy as an integral part of value-based care model.

Heather Jarvis, PharmD, MBA, a PGY-1 community pharmacy resident at L&S Pharmacy in Charleston, Mo., discussed a pilot program for incorporating community health workers into an independent community pharmacy in the CPESN network.

Jarvis said the program included a bidirectional referral model between the pharmacy and state department of health. A community health worker in the pharmacy refers patients that need additional care coordination, and the department of health refers patients needing advanced medication assistance back to the pharmacy.

Funding for this pilot program came from a federal Health Resources and Services Administration (HRSA) grant and a fee-for-service agreement with the Missouri Department of Health. The pilot aims to provide results that encourage payers to prioritize pharmacist-provided care and establish a reimbursement system for community pharmacy SDOH programs.

Amanda Foster, PharmD, a postdoctoral clinical research fellow in the Department of Pharmacy Practice at the University of Buffalo, discussed potential sustainability models.

Foster said SDOH program reimbursement relationships should begin in a layered fashion that start at the local level and can progress to the national level.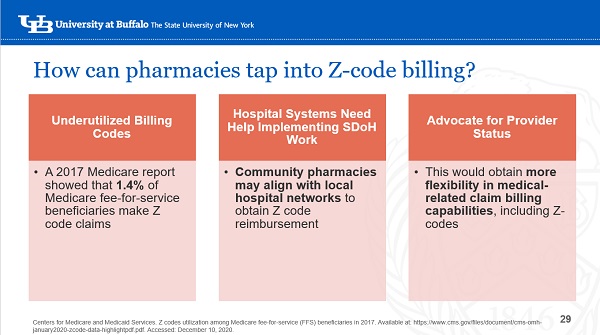 Z-codes are a subset of ICD-10 codes that allow for a fee-for-service model specific to assessing SDOH. Z-code claims in 2017 were made for only 1.4% of Medicare fee-for-service beneficiaries. Community pharmacies can partner with local hospital networks to obtain Z-code reimbursement. If pharmacist provider status is obtained, increased flexibility in medical-related claim billing will be possible.

In discussion following the presentations, Richard Logan, PharmD, a co-owner of L&S Pharmacy, said health systems should want to improve metrics and increase profits, so they should be interested in tapping into Z-code billing. He recommended staring by developing personal relationships with key individuals in hospitals and health system to let them know that pharmacies can provide services to increase these benefits.

On whether to use an SDOH specialist or a community health worker (CHW) model, the panel's consensus was that SDOH specialists are a sustainable first step, which can then be expanded to a CHW model. It is easier to train current staff to be SDOH specialists rather than training CHWs to be technicians.

You can listen to the full recording of this Quality Forum Webinar, a one-hour presentation with audience Q&A, on PQA's YouTube channel. PQA members can access the presentation slides in our Member Resources Library. This Quality Forum was supported by an unrestricted educational grant from PerformRx. 


Savannah Cunningham, a Class of 2022 pharmacy doctoral student at Mercer University, is a PQA Advanced Pharmacy Practice Experiences (APPE) student.
Share this post: