Participate in PQA's Specialty Pharmacy Turnaround Time Study
PQA is investigating the barriers and facilitators of prescription turnaround time in the specialty pharmacy setting.
It's an important issue because prompt treatment initiation is essential for optimal management of complex conditions. Specialty pharmacy prescription turnaround time commonly refers to the time between a specialty pharmacy receiving a new prescription and that prescription being ready for pick-up or scheduled for delivery. Having a prescription ready for pick-up or scheduled for delivery is a key element to treatment initiation, and recent studies have demonstrated a link between rapid treatment initiation and improved outcomes in some patient populations, such as in persons living with HIV.
However, specialty pharmacies can face unique barriers in their prescription turnaround time due to the complexity of the patients they serve, in addition to the high-cost nature of the products specialty pharmacies dispense.
Even with over 700 accredited specialty pharmacies and demonstrated growth in specialty medicines in recent decades, the available information on specific prescription turnaround barriers and facilitators that exist in the specialty pharmacy setting is limited. This project is a first step in identifying barriers and facilitators to patients receiving their specialty medications in a timely fashion. This initiative also seeks to identify best practices that specialty pharmacies use to improve prescription turnaround time.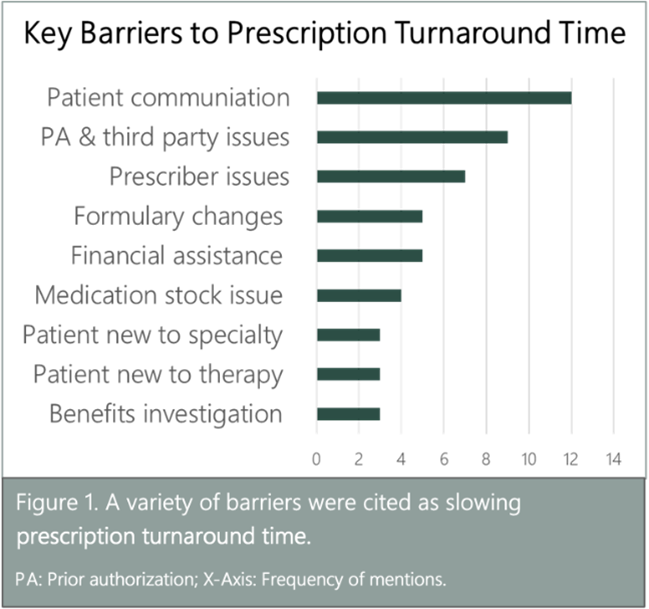 This project has two phases. In the first phase, PQA conducted four focus groups with pharmacists and managers from diverse specialty pharmacy practice settings, including chain pharmacies, payers, integrated delivery networks, and independently owned and operated pharmacies. These groups discussed the processes related to filling specialty medications, common barriers to achieving quicker turnaround time, and best practices they have implemented to improve turnaround time.
The results of these focus groups are compelling. Patient communication was commonly cited as a barrier to filling prescriptions in a timely fashion. The ability to reach patients via phone and patients' hesitancy to provide more information than in other pharmacy settings, such as information needed for financial assistance programs, were highlighted. Other commonly cited barriers included:
prior authorizations,
prescriber issues, including unclear prescriptions and inconsistent communication,
formulary changes, and
pursuing financial assistance.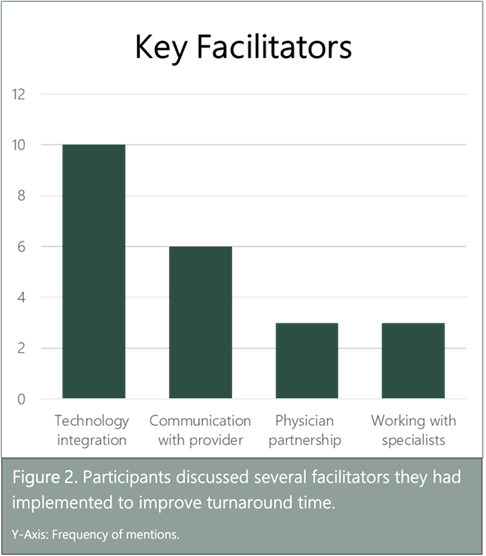 Focus group participants also shared their experiences and perspectives as facilitators and best practices to improve turnaround time in their specialty pharmacies. Integration of technology was a commonly cited facilitator, including implementation of technology for patient outreach and managing prior authorizations. Communication with providers and physician partnerships was underscored. Participants shared that those who have close relationships with clinic staff found that barriers were more quickly resolved.
Specialty turnaround time was considered essential and participants conveyed a need for consistent measurement for turnaround time. One group addressed that using turnaround time as an external metric is challenging because pharmacies can calculate it in various ways, leading to the inability for clear comparisons among different pharmacies. Despite this, participants underscored the use of turnaround time metrics internally to drive quality improvement.  One participant explained that turnaround time is not inherently about dispensing as fast as possible but is instead about ensuring the patient is getting the best outcome possible.
The second phase of this project is to conduct a survey to capture broader information from specialty pharmacy stakeholders. Survey development was informed by focus groups participants.
PQA calls on specialty pharmacies to participate in our survey!
Your participation will help us better understand what barriers you face when filling prescriptions and which best practices you have implemented to decrease these barriers.
The survey will be open from April 20-May 18, 2021 and takes about 15 minutes to complete. The survey is distributed to National Association of Specialty Pharmacy and PQA specialty pharmacy members. We request that only one participant per specialty pharmacy location complete the survey.
If you are a pharmacist or manager at a specialty pharmacy and your location has not participated, please reach out to [email protected] to request the survey link.
Share this post: