Quality Forum Review: Best Practices to Support Tapering Patients on Long-Term Opioid Therapy
The PQA Quality Forum Webinar is a regular, recurring series on healthcare quality topics with a focus on medication use and medication services. It is a forum for educating and engaging with PQA members and quality-focused healthcare professionals.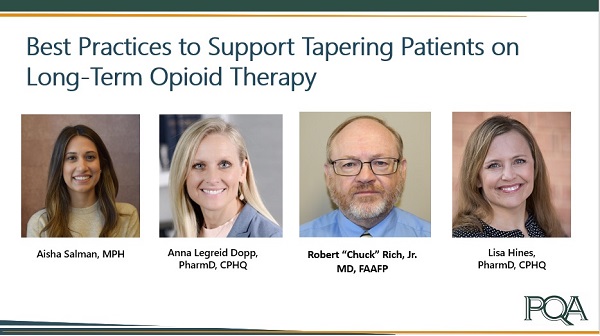 PQA's January 21, 2021, Quality Forum welcomed a panel of experts to discuss best practices to support tapering patients on long-term opioid therapy (LOT) for chronic non-cancer pain (CNCP) in out-patient settings. While the presenters noted more research is needed on the long-term benefits and side effects of opioid tapering, the results thus far have been promising.

Aisha Salman, MPH, a Program Officer at the National Academy of Medicine (NAM), began the conversation with an overview of the organization's Action Collaborative on Countering the U.S. Opioid Epidemic.

Salman noted the severity of the opioid crisis in the U.S. Over 130 Americans die from an overdose every day, and 2.1 million people suffer from opioid use disorder. The opioid crisis cost $2.5 trillion between 2015 and 2018, and costs have been rapidly rising due to COVID-19.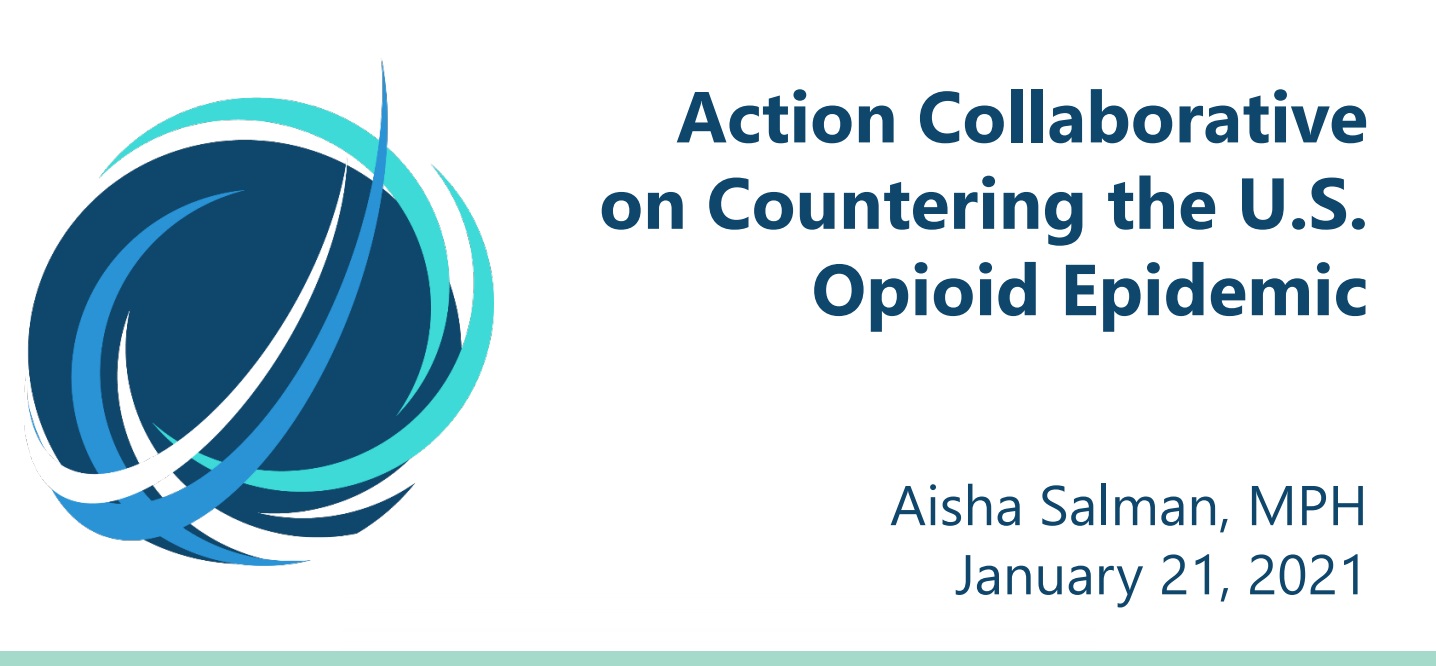 In response, the NAM Action Collaborative seeks to apply a portfolio approach to address the epidemic, recognizing that no single policy will be enough. Established in 2018, the Action Collaborative is a public-private partnership with more than 60 participating members. The goal is facilitating a cohesive, systems response to the opioid crisis.

"We accomplish more when we work together," Salman said. "It illustrates the necessity for a systems response to address a public health crisis like the opioid epidemic and underscores the important role that the Action Collaborative plays within this ecosystem."

The Action Collaborative has four focus areas, each with a designated working group:
Health professional education training
Pain management guidelines and evidence standards
Prevention, treatment, and recovery services
Research, data and metric needs
Salman focused on the "Pain Management Guidelines and Evidence Standards" working group, which aims to strengthen critical aspects of pain management, including patient-centered and evidence-based tapering guidance, and support the implementation of pain guidelines into practice. The group actively identifies practice and system-level gaps in chronic pain care through a person-centered journey map.

Anna Legreid Dopp, PharmD, CPHQ, the Senior Director of Clinical Guidelines and Quality Improvement at ASHP, followed with more information on NAM's discussion paper on tapering best practices for opioid users. The NAM discussion paper focuses particularly on patient populations of long-term opioid use who are being treated for chronic non-cancer pain in the out-patient setting. The paper examines the potential of tapering strategies as a form of risk reduction for opioid use and pain management.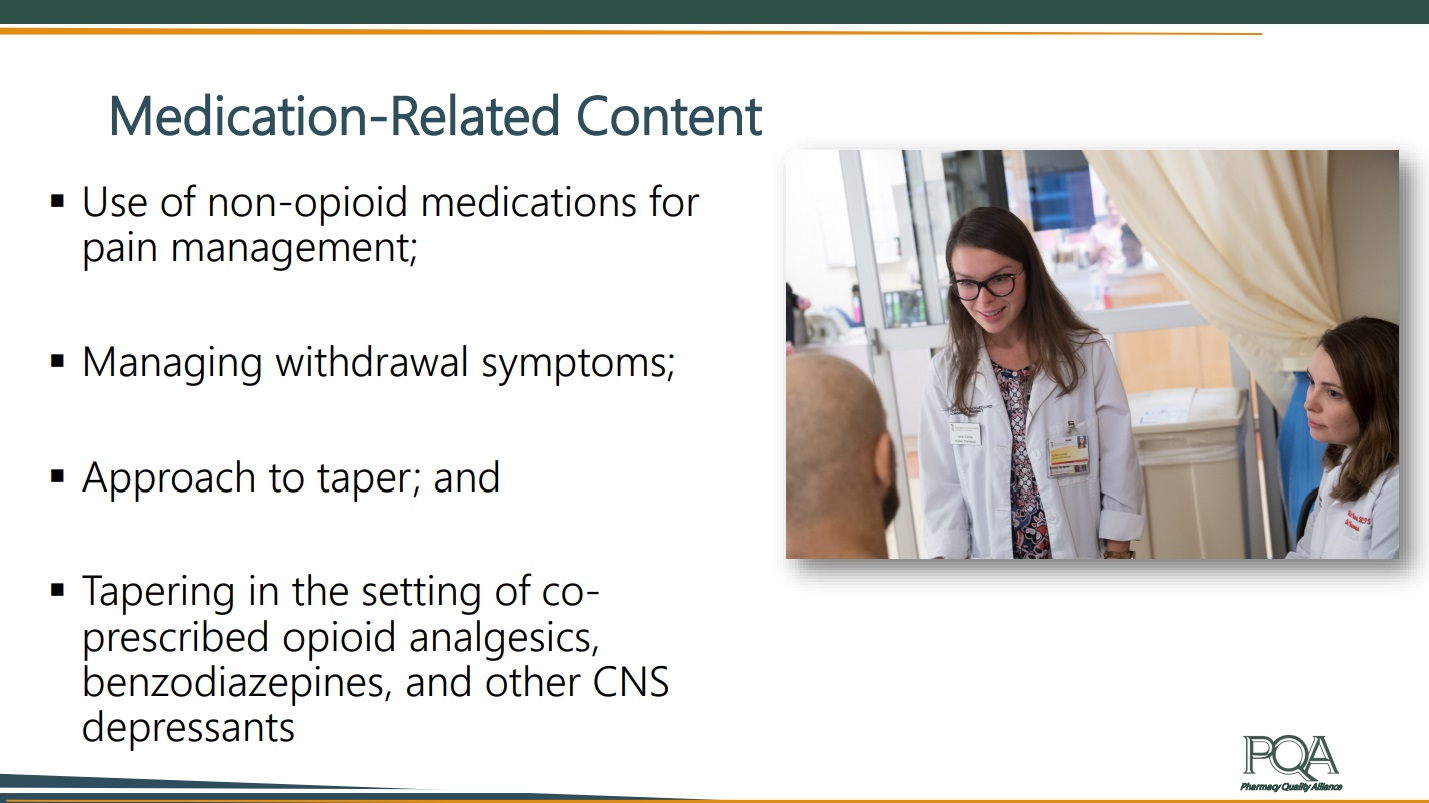 Dopp presented the medication-related content contributed by her organization for the paper, which includes the use of non-opioid medications for pain management, managing withdrawal symptoms, and approaches to tapering. ASHP hopes to offer guidance to the Action Collaborative on the ways in which pharmacists can be leveraged in pain management and opioid recovery strategies.

Dopp gave the example of the Support Team on Site Resource for Management of Pain (STORM), which is a pharmacist-led opioid tapering program. So far, STORM-assisted patients have achieved a greater than 50 percent average decrease in morphine milligram equivalents from baseline in 11 years of tracking.

Robert "Chuck" Rich, Jr., MD, FAAFP, continued with a discussion of the paper's key points and best practices on tapering, current research gaps, and future research priorities. Rich said there are numerous evidence-based benefits of tapering, including lessened risk of accidental overdose, lessened side effects from opioid use and improved pain and functioning. However, there are risks that should be discussed with a patient prior to beginning the tapering process, such as unmasked opioid dependency and behavioral health conditions in patients with long-term use.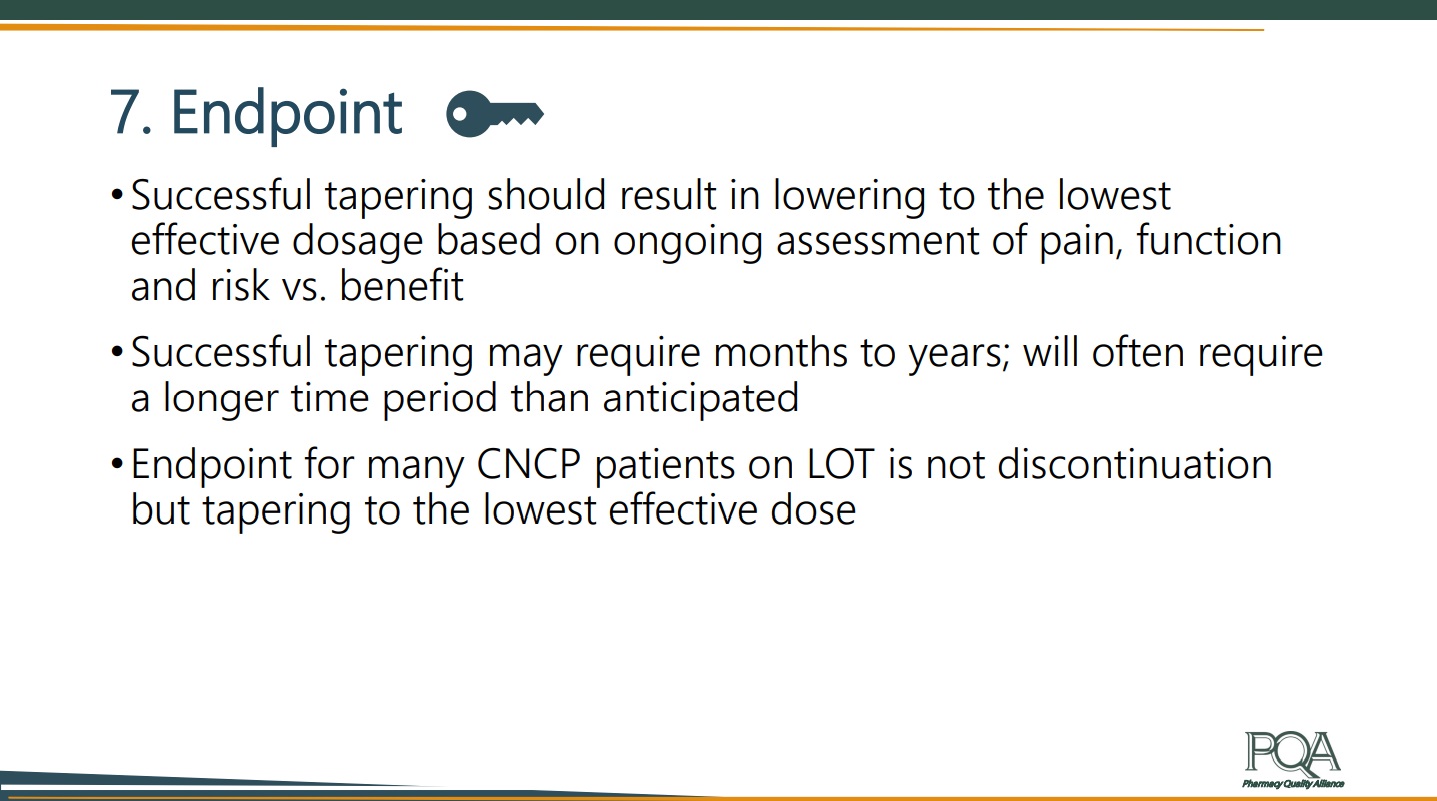 Tapering is not a "one size fits all" process, Rich said, and the speed of tapering will vary from individual to individual. The current consensus is that the higher the dose and the longer the duration of use, the slower the taper. Adjuncts to tapering, though they still require further research, include nonpharmacologic therapies like CBT and chiropractic therapy alongside pharmacologic therapies.

The goal of adjunctions is to optimize pain management, so opioids have less utility for pain control and to optimize treatment of coexisting conditions that impact pain control. Consistent communication between the patient and provider during the tapering process is key.

When establishing the endpoint of tapering treatment, Rich named three main considerations:
Successful tapering should achieve the lowest effective dosage for a patient based on ongoing assessment of pain, function and risk versus benefit. In other words, the provider does not need to taper to zero use of opioids.
Successful tapering may require months to years. It will often require a longer time period than anticipated.
The endpoint for many CNCP patients on LOT is not discontinuous but instead is tapering to the lowest effective dose.
Lisa Hines, PharmD, CPHQ, Vice President of Performance Management for PQA, closed out the webinar by describing PQA's quality measures that intersect this work. These are PQA's eight opioid measures, established using claims data retrospectively:
Use of Opioids at High Dosage (OHD)
Use of Opioids from Multiple Providers (OMP)
Use of Opioids at High Dosage and from Multiple Providers (OHDMP)
Concurrent Use of Opioids and Benzodiazepines (COB)
Initial Opioid Prescribing at High Dosage (IOP-HD)
Initial Opioid Prescribing for Long Duration (IOP-LD)
Initial Opioid Prescribing for Log-Acting or Extended-Release Opioids (IOP-LA)
Annual Monitoring for Persons with Long-Term Opioid Therapy (AMO)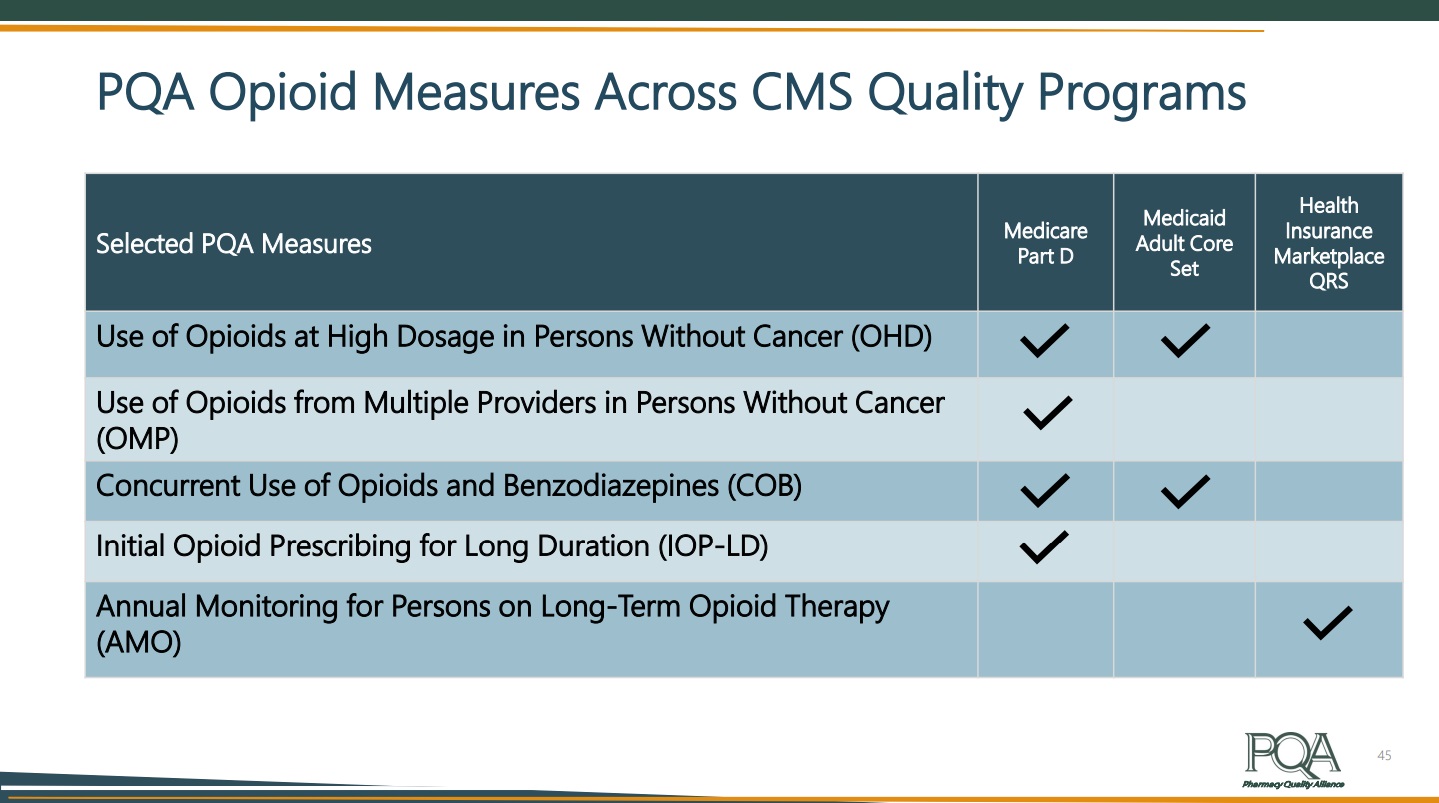 PQA's opioid measures are used in multiple Centers for Medicare & Medicaid quality programs, including four by the Medicare Part D program. More than half of states use a PQA opioid measure in their Medicaid programs.
You can listen to the full recording of this Quality Forum Webinar, a one-hour presentation with audience Q&A, on PQA's YouTube channel. PQA members can access the presentation slides in our Member Resources Library.
Share this post: