Quality Forum Review: Pharmacist-conducted Immunization Assessment and Documentation
The PQA Quality Forum Webinar is a regular, recurring series on healthcare quality topics with a focus on medication use and medication services. It is a forum for educating and engaging with PQA members and quality-focused healthcare professionals.
PQA held an October 15, 2020, webinar on Pharmacist-conducted Immunization Assessment and Documentation.
The webinar reviewed a proof-of-concept study to develop infrastructure needed to routinely conduct and document immunization status assessments completed and associated compliance rates in the community pharmacy setting. PQA partnered with DocStation on this project, supported by Merck, to begin developing routine community pharmacy immunization status assessments and compliance reporting for a medication therapy management (MTM) program.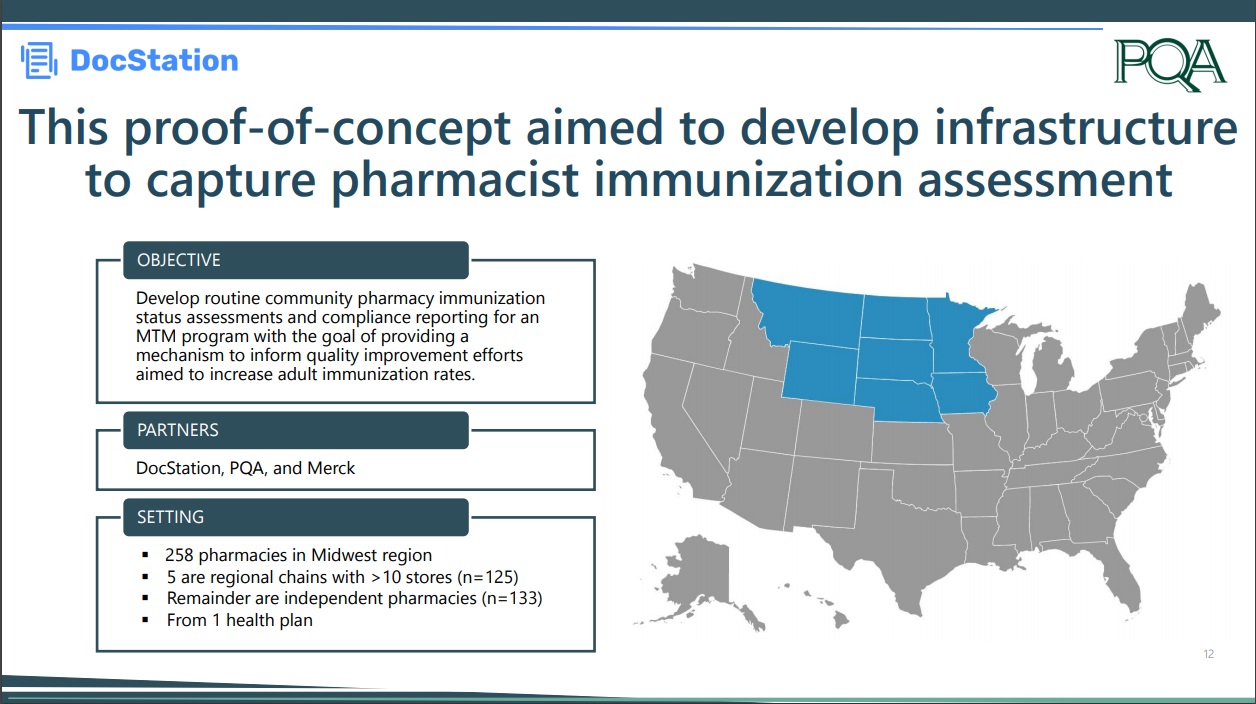 Currently, there is no standardized method to record patient immunization information and that creates challenges for pharmacists. Improving how this data is captured can better enable pharmacist-provided care and support value-based care arrangements.
Meghan Gabriel, PQA's Director of Measurement Science and Analytics, opened the event by discussing the project's background and methods. Vaccine-preventable diseases can cause long-term illness, hospitalization and death, but adult vaccination rates remain below national goals.
Gabriel noted that pharmacists are uniquely positioned to improve adult immunization rates. Community pharmacists are among the most visited health care professionals, can assess immunization status and can document whether immunization has occurred.
"It's been shown that by routinely asking patients about their immunization history, it can lead to improved vaccine rates when discussing [immunization] gaps," Gabriel said.
During an MTM service, pharmacists can administer needed vaccines or provide referral for vaccine administration.
The program looked at immunization rates for five diseases – Influenza, Pneumococcal, Hepatitis B, Herpes Zoster and Tetanus – across 258 pharmacies in the Midwest and West regions, five of which are regional chains with more than 10 stores and the remainder are independent pharmacies. Two PQA draft quality measures to improve adult immunization were used:
Assessment: The percentage of individuals 19 years and older who were eligible for MTM services and received an immunization status during the measurement year.
Compliance: The percentage of immunization status assessments document as Advisory Committee on Immunization Practices (ACIP) compliant among individuals 19 years and older who were eligible for MTM services.
Simon Anderegg, Clinical Systems Analyst at DocStation, shared information on the DocStation platform used in the proof of concept. On a basic level, the health plan supplies claims data to DocStation, which then shares insights with pharmacists to help them complete interventions.
The project team created a clinical workflow called the Immunization Screening task and used it to assess two things: the percentage of patients with complete immunization assessments per total eligible patients and the percentage of patients in compliance with ACIP-recommended immunization standard within the total number of patients who were assessed.
The DocStation platform:
Connects pharmacists with patients;
Pulls in pharmacy and medical claims, dispensing data to create a single source of truth in the patient record;
Feeds data through a variety of algorithms to identify clinical risk; and
Builds simple, intuitive workflows called tasks for pharmacists to quickly document and report their encounters so they can spend less time doing manual data entry and more time with patients.
Anderegg shared the project's findings, which included:
Nearly all eligible patients received an assessment.
The aggregate compliance to all 5 vaccines was 6.4%.
Compliance varied by vaccine type.
There were slight variations in compliance rates across age groups.
Compliance was fairly consistent between genders.
As expected, there is a positive correlation between pharmacy active member count and the number of completed assessments.
At the conclusion of the project, the team sent out a 6-question survey to understand the pharmacists' experiences using the DocStation platform to complete immunization assessments. The questions focused on 5 areas:
Platform usability
Ability to identify care gaps
Barriers to completing the screening task
Tools and resources used
COVID-19 impact on ability to complete assessments
Mel Nelson, PQA's Director of Program Management, noted that COVID-19 presented some unique challenges for pharmacists. Some patients were not able to get follow-up immunizations within the recommended time frame, such as a second shingles shot within a six-month window. Patients were also concerned about recognizing the difference between vaccine side effects and COVID-19 symptoms.
Nelson sees a lot of opportunity to build on the proof of concept and further study ways to expand and support pharmacist-conducted immunization assessment and documentation. Future projects could:
Scale the proof of concept to more platforms and health plans;
Create ways to track the interventions that can improve immunization practices; and
Advance standardized pharmacist training on the tool or immunization status assessment.
Additionally, the project shed light on gaps in immunization status, which could inform future quality improvement and measurement efforts to increase immunization rates.
You can listen to the full recording of this Quality Forum Webinar, a one-hour presentation with audience Q&A, on PQA's YouTube channel. PQA members can access the presentation slides in our Member Resources Library.
Share this post: