PQA's 2021 Strategic Plan: Three Initiatives for a Unique Year
PQA's Strategic Plan for 2021 is focused on three, timely initiatives for medication use quality: the social determinants of health, innovative pathways for measure development, and immunization services.
PQA's Strategic Plans historically have covered three-year periods. Our current plan will reach its successful conclusion at the end of 2020. As we contemplated PQA's next plan, in the midst of the COVID pandemic, we recognized the value of creating a one-year Strategic Plan "burst" that is relevant for this unique and challenging time – and the needs of our 250 multi-stakeholder members.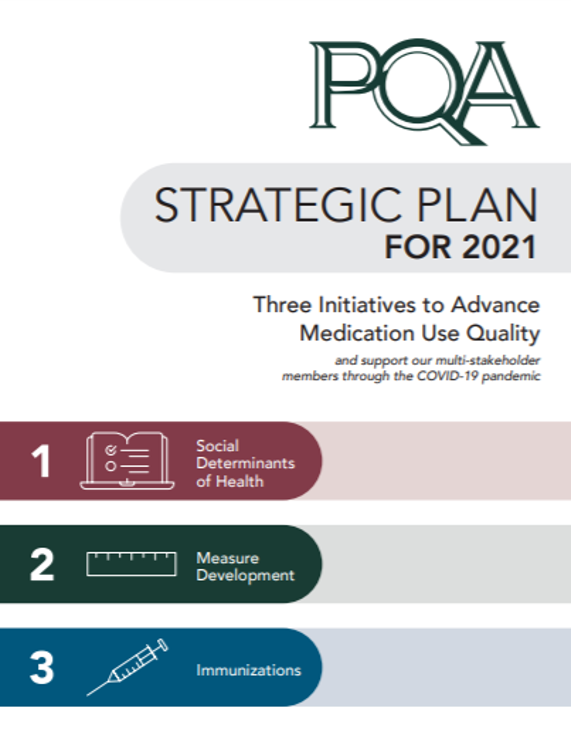 We leveraged ideas and insights from PQA's Board of Directors and our staff to identify and prioritize strategic initiatives that have great value for PQA members and high potential for success in 2021. Through our planning process, we developed a vision for where PQA wants to be by the end of next year.
We want to be:
a thought leader for advancing quality across our health care system;
recognized as an authority for safe and effective medication use and expanded pharmacist-provided services; and
an agile organization that meets the needs of a changing health care system.
To realize this vision and to deliver the strongest benefits and ROI for PQA members, we have developed three initiatives that will be a focus for PQA through 2021.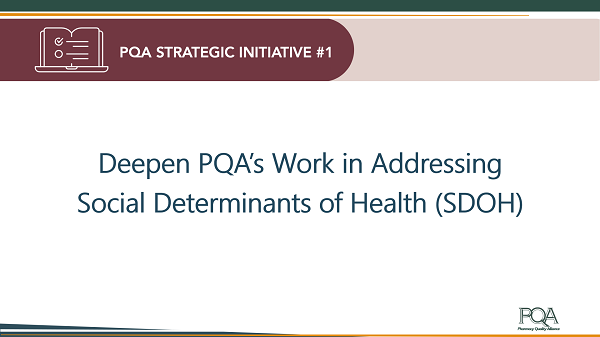 First, PQA will deepen our work in addressing social determinants of health. We will leverage our consensus-based process to develop and endorse a standardized SDOH patient survey to support pharmacist-provided care. We hope to then develop support for the survey's validation and inclusion in various existing patient experience surveys as well as comprehensive medication reviews. 
We also will create a PQA SDOH Resource Guide, which will detail the interventions most likely to improve the quality of medication use – and where pharmacists are best positioned to provide screening, referral and services. The guide, which will be available by the end of 2021, will emphasize efforts to address persistent racial and ethnic disparities and unequal treatment that affect medication access, health care delivery and patient outcomes. In building out the guide, we hope to identify gaps where existing or adequate resources do not yet exist, as a catalyst for future research or collaborative projects to create new tools or resources.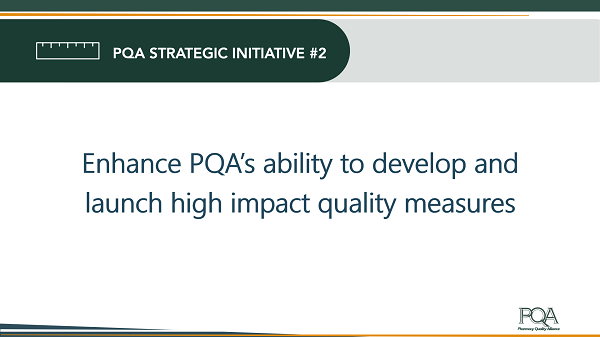 Second, we will enhance PQA's ability to develop and launch high impact quality measures by designing an innovative pathway for contract-based measure development. Our team will do this by assessing market interest to engage in contract-based measure development and later identifying lessons learned to put a plan in place to institutionalize the innovative pathway long-term.
In addition, we will lay the foundation for a pharmacy quality rating system that can provide a public rating to objectively measure the quality of community and specialty pharmacies. PQA will allocate appropriate resources to initiate a pilot targeting of one-to-two pharmacist-provided services that demonstrate the value of pharmacists' role to meet current marketplace needs. Using this information, we will create a compelling vision for the "end result" pharmacy measure set and partner with key stakeholders to establish standards for the rating system.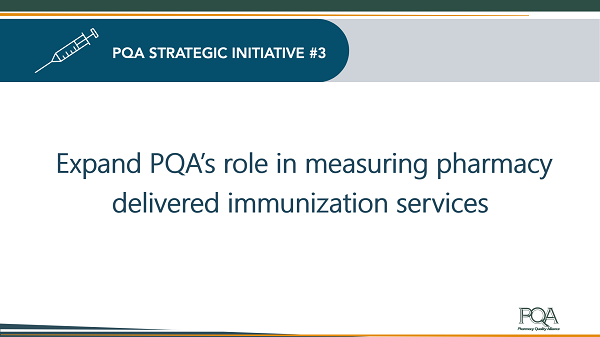 Third, PQA will expand our role in measuring pharmacy delivered immunization services. We will launch an initiative to document pharmacy immunization services using a standardized data source. After the initial launch, our team will execute a communications strategy to promote PQA's work and highlight the prominent, value-add role of pharmacists in immunizations. We hope this will provide insights for pharmacy measure development, while also raising visibility around the role pharmacists service in immunization administration.
Our strategic initiatives for 2021 build on and enhance our everyday work in measure development, research, education and convening to support better medication use and high-quality care. We invite you to review the complete Strategic Plan document and provide feedback. You can email us at [email protected].
Share this post: