Electronic Clinical Quality Measures: Considerations for Pharmacy Measures
Anna Legreid Dopp, Senior Director of Clinical Guidelines and Quality Improvement at ASHP, spoke at PQA's Data and Interoperability Advisory Group (DIAG) meeting on June 22. She discussed Electronic Clinical Quality Measures (eCQMs) and how we can use them to start thinking about pharmacy measures. ASHP is the organization that represents pharmacists who serve as patient care providers in acute and ambulatory settings.
This blog provides an overview of Dopp's presentation. You can view a recording of the DIAG meeting and read more about it in a PQA blog, which outlines PQA's work to address data infrastructure, standards and interoperability.
eCQM is a clinical quality measure that is specified in a standard electronic format and is designed to use structured, encoded data present in the electronic health record. Under this umbrella, there are also hybrid measures, which merge electronic health record data elements with claims data to calculate measure results, but these are currently only used in hospital reporting programs to a minimal extent.
Data entry demands, alongside increased focus on fulfilling measures for reimbursement, are a huge time burden for clinicians and physicians. "There are some estimates that this takes about anywhere between seven-hundred and twelve-hundred hours per position," Dopp said.
The aim of the eCQM is to reduce the burden on the clinician and the system while having access to clinical data that can assess outcomes of treatment. Ultimately, according to Dopp, the goal is to use that data in real-time to expedite decision making processes.
The eCQM lifecycle begins with conceptualization and then moves through a fairly standard process: specification to testing to implementation to maintenance and validation, and the process continues from there. There are electronic specifications the eCQM needs to follow for electronically documenting content, including computable representations, human-readable representation and naming convention.
The Office of the National Coordinator for Health Information Technology (ONC) has brought improvements into the eCQM space, according to Dopp. In the 21st Century Cures Act, the ONC implemented the Cures Act Final Rule, which makes sure there is interoperability between patients and healthcare providers. Dopp said the act's goal is "Support of seamless and secure access, exchange, and use of electronic information" for patients and providers. The act also streamlines reporting criterion for eCQM data standards for Centers for Medicare and Medicaid Services (CMS) and non-CMS eCQMs ultimately aiming to reduce the burden for health IT developers.
Dopp's presentation concluded with a focus on lessons and opportunities. In 2020, there are eight eCQMs in the marketplace, six of which relate to medication use. Forty-seven eCQMs are in the performance period for eligibility. To get involved in the development of these quality measures, Dopp suggested reviewing the annual timeline for periodic and scheduled updates.
As for lessons for pharmacy, Dopp warned we should learn from what happened in the meaningful use era when existing CQMs were retooled, causing providers to become leery of what some of the numbers might produce. However, Dopp assured this has been happening less and less since. Beyond this consideration, Dopp mentioned health IT vendor capacity with competing priorities and digging into the validation process for eCQM. "The reporting capability may be there, but is that is the data really accurate? Is it valid on the reporting side or is it really valid on what that data is saying and telling and measuring?" Dopp asked.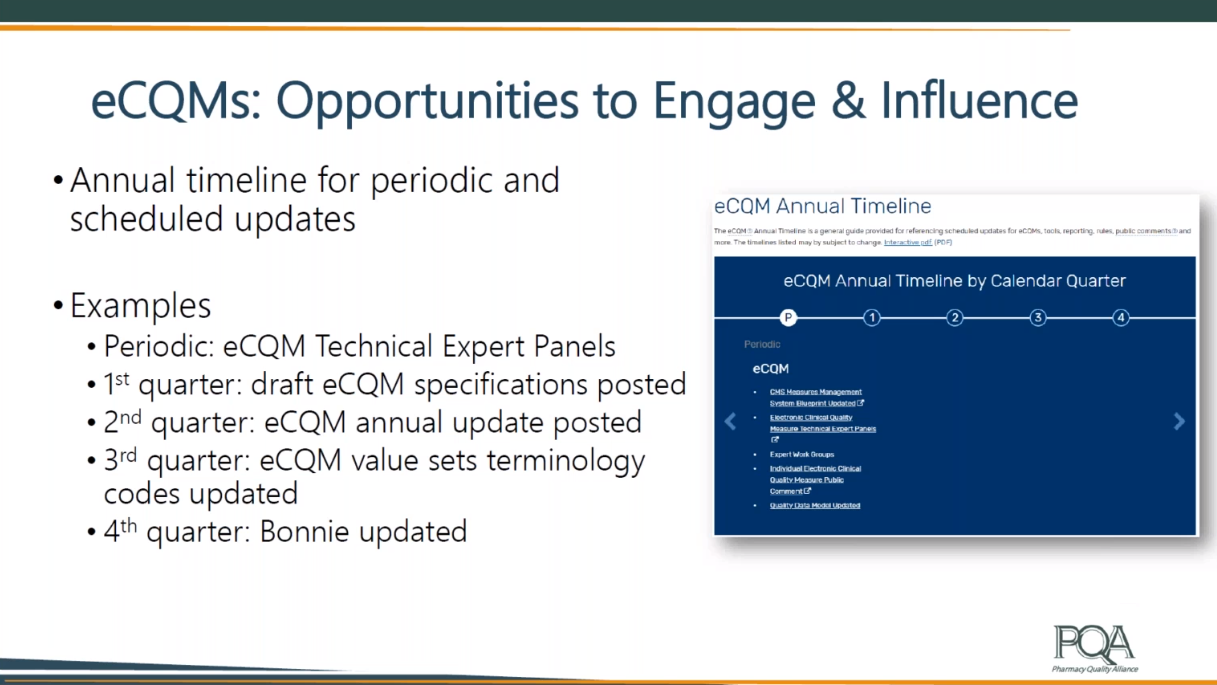 Dopp closed by discussing bigger picture opportunities to consider outside of and encompassing eCQM. She began with harmonization: "This fosters that learning health care system where you have continuous learning matched with continuous improvement." Next, she noted the importance of Fast Healthcare Interoperability Resources (FIHR) based standards for enabling the submission of quality information through digital formats.
Finally, Dopp briefly discussed Digital Clinical Quality Measures (dCQMs) as the next generation exchange framework for interoperability. CMS, she shared, enables application of artificial intelligence and machine learning to identify quality problems before patients are harmed and intervene through the use of dCQMs.
Share this post: