Annual Meeting Poster Session - Online Next Week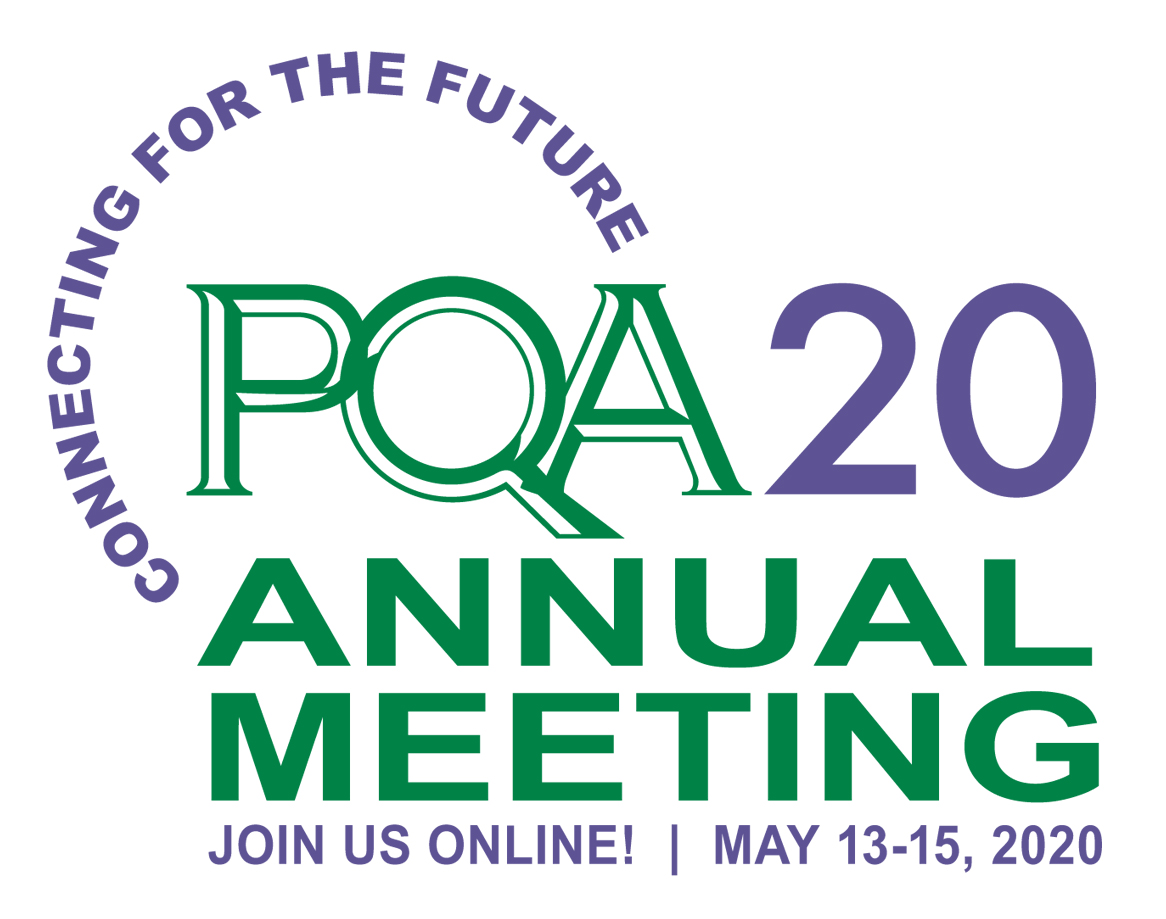 The 2020 PQA Annual Meeting Poster Session will be presented online May 6 and 7 through two one-hour events. 
Our members have been hard at work developing the research that will be presented during the Poster Session, and we're happy to provide a platform for showcasing their work!
The Poster Session is open to all Annual Meeting registrants.
Register here
for the meeting. Meeting registrants will receive an email with a link for each of the two poster session events. Posters will be available to view on
PQA's Education Center
during the week of May 4-8, so that you'll have time to formulate questions for our presenters.
Below are the titles of the posters that will be presented in each session. You also can access the
complete schedule (PDF)
with the presenters' names and affiliations.
If you have questions about the Poster Session, contact PQA at
[email protected]
.
Poster Session 01 - May 6, 1:00-2:00 p.m. ET
Assessment of Post-surgical Pain Management within Veterans Integrated Service Network (VISN) 21
Medication Therapy Problems Identified Through Comprehensive Medication Management by Pharmacists in a Team-Based at Home Care Program
A Mixed Method Assessment of Medication Synchronization Adoption in Community Pharmacies
Impact of Community-based Pharmacist Intervention on Initial Opioid Prescribing
Adherence assessment via proportion of days covered (PDC) among a national network of health system specialty pharmacies.
Real-world patterns of disease progression in patients with multiple sclerosis who are adherent versus non-adherent to disease-modifying treatments (DMTs) over 6 years
Outcomes in VHA Amyloidosis Treatment.
Evaluation of Actionable Germ Line Drug/Gene Pairs in Leukemia, Bone Marrow, and Gastrointestinal Oncology Populations
 An Evaluation of Providers Perceptions on Medication Safety Interventions by Community Pharmacists
Using Private Insurance Claims to Predict the Onset of T2DM
Prevalence and mortality rate of adverse drug events from co-prescription of opioids and medications potentiating the effects of opioids
The Impact of Opioid Safety Edits on Opioid Utilization
Community Pharmacist Perceptions of Quality Related Events and Patient Safety
How to Improve Pharmacy Quality Measures: Assessing the Impact of Machine Learning AI Analytics and Personalized Coaching
Poster Session 02 - May 7, 5:00-6:00 p.m. ET
Hospital Readmissions related to Cardiovascular Medications: A Qualitative Study of Discharge Processes in a Community Hospital
Effect of a Health Plan and Medical Group Partnership on Medication Adherence
The Effect of Personalized, Telephonic Outreach by Care Navigators on Medication Adherence in a Medicare Population
The effectiveness of an artificial intelligence targeting methodology on improving refill rates in patients receiving pharmacy-based interventions in addition to call center interventions.
Socioeconomic and Geographical Characteristics of Medicare Beneficiaries Accessing Medication Therapy Management (MTM) Services
Efficacy of a Telephonic Transition of Care Program in a Medicare-Medicaid Population Targeting Members with Admitting Diagnoses of COPD, Diabetes and Heart Failure
High Risk Medication Usage and Hospitalizations in the Elderly
Impact of Comprehensive Medication Review on Patient Adherence to Statins among thePopulation with Diabetes in Medicare Part D
Implementation of lifestyle intervention education, including DASH diet, in patients likely to benefit from lifestyle changes to reduce blood pressure
Clinical impact of a free diabetes management service at a clinic for uninsured patients.
Educating South Dakotans with Diabetes and Cardiovascular Disease on Expanded Pharmacy Services
A Crossroads of Measurement and Guidelines: A Review of the 2020 American Diabetes Association Guidelines
Share this post: