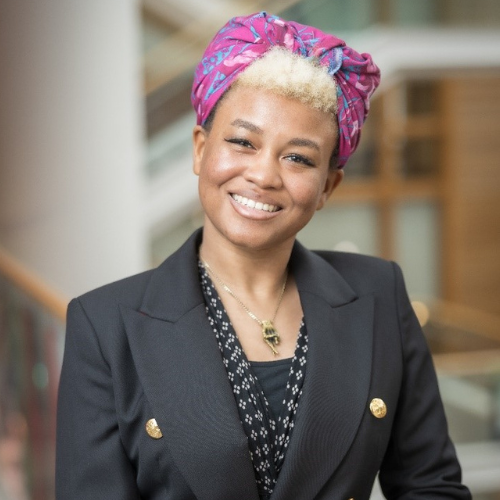 PQA offers a variety of student and professional programs, including a Masters of Public Health (MPH) Practicum Program, which provides internship opportunities and field experience to MPH students across all public health disciplines. The program's foundation begins with the applicant's interests to foster skill development in health services research methods, quality measurement, research communications and diverse stakeholder engagement.
Brianna DeWitty participated in the 2022 PQA MPH practicum summer rotation. Read more about her scoping literature review.
Why did you choose to focus on disparities in oral anticancer medications during your time at PQA?
I am interested in social and health-related inequities with the goal to address health disparities for the LGBTQ+ and racial minorities. This interest led to my project  to evaluate the current scientific literature that identified disparities in cancer treatment in the United States.  
This project also aligns with PQA's mission, given that medications are often prescribed in the treatment and management of cancer. Traditionally, anticancer medications were administered intravenously (IV) at an infusion center where patients are monitored by medical staff. However, the use of oral anticancer medications, which patients self-administer at home, have become more common over the past decade. Anticancer medications, in general, are very potent, killing healthy cells and cancerous cells, which can result in side effects. Misuse or nonadherence due to side effects can have significant consequences on patient outcomes.
What added information did this literature review reveal?
The literature review covered the continuum of cancer treatment, including,
 Whether patients received recommendations for standard treatment,
Time from diagnosis to treatment,
Whether patients abandoned or refused their treatment, and
Adherence and persistence with medications.
The literature revealed that disparities were consistent across multiple studies among non-Hispanic blacks, the uninsured and patients with low socio-economic status. While the comparisons between non-Hispanic whites to non-Hispanic blacks were common in the literature, other racial/ethnic groups were much less common. For example, American Indians/Alaska Natives often experience similar, if not worse, outcomes compared to blacks. Yet, the lack of research on this disparity limits the ability to fully understand this relationship.
Notably, the level of social support, usually measured through marital status, was related to medication adherence and persistence. Married individuals were more likely to be adherent to medication than unmarried individuals.
What additional research will PQA undertake based on these findings?
PQA's mission to improve medication safety, access and adherence is central to this project. In fact, this literature review is part of a larger environmental scan addressing quality issues in oral anticancer medication therapy. These efforts are in support of a national, multi-stakeholder workshop series that PQA will convene to produce a public, consensus-based, prioritized list of research and measurement opportunities for improving the quality of oral anticancer medication therapy.
Share this post: