Q&A with PQA Board Chair Jerry Penso
PQA's Board of Directors represents a diverse group of thought leaders and experts in healthcare, who understand how medication optimization improves patient outcomes and supports a value-based care system. Their expertise helps PQA advance the safe and appropriate use of medicines. This blog is one in a series profiling PQA's Board members. 
Jerry Penso, MD, MBA, is PQA's Board Chair for 2021. He is President and Chief Executive Officer at AMGA, and has been a member of the PQA Board since 2016. Earlier this month, he shared with us his background, experience and insights on PQA's work.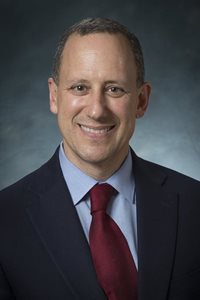 Tell us about your background and how you came into your current position as president and CEO at AMGA?
I am a family physician and I practiced at Sharp Healthcare in San Diego, Calif., for 20 years. I was fortunate to care for a wide variety of patients, ranging from newborns to hospitalized patients to people in hospice. I also became very interested in quality improvement and led our medical group to top performance in quality in the state. A little over eight years ago, I relocated to the Washington, D.C., area to be the first chief medical officer for AMGA. AMGA is a trade association that represents over 400 medical groups and health systems, where 175,000 physicians care for one in three Americans.  Although leaving San Diego was a challenge, I was excited to join AMGA in order to have a national impact on healthcare quality. In 2017, AMGA's long-time CEO passed away, and I was selected to lead the organization to continue to advance high performance health.
How does your engagement with PQA support AMGA and its mission?
AMGA's vision is to lead the transformation that results in healthier people, and our mission is to advance multispecialty medical groups and integrated systems of care as the preeminent model to deliver high performance health care. AMGA works closely with our members to improve the care delivered, lower the cost of care, and enhance the patient experience. AMGA believes we must change how we deliver care if we are going to move to a value-based system. PQA's expertise in advancing the quality of medication use aligns perfectly with AMGA's desire to move the healthcare system toward value-based care. 
As a physician and someone who represents medical groups and health systems, how does your unique perspective further PQA's work and medication use quality?
My first administrative role was to manage the medical group's pharmacy risk, and the first project I undertook was asthma care. Partnering with the health plan and local pharmacists, we identified patients in poor control, arranged for a pharmacist medication review, educated patients on correct inhaler use, and monitored prescriptions for adherence. And as a result of this multifaceted approach, patients felt better and experienced fewer emergency room visits. At AMGA, we strongly endorse team-based care, and we know that a systems approach to care delivery will produce the highest value. And I know from firsthand experience the power of collaborative care.      
How would you describe PQA's value for our healthcare system?
PQA is unique because of the many stakeholders that it engages, some of whom find themselves on opposite sides of the negotiation table. Yet, with PQA bringing them together to promote safe and effective medication use, these various healthcare entities are able to find common purpose. The ability to build consensus around goals that improve patient care truly makes PQA an exceptional organization. As a measure developer, educator, convener and researcher, PQA provides essential resources to the entire healthcare ecosystem. 
Our healthcare system continues to evolve in many ways. What do you see as the future for quality improvement in medication use and medication services?
The role of pharmacists and pharmacies has greatly expanded, and the COVID-19 pandemic accelerated innovations in how care is provided. I see a future with more virtual care, home-based care, digital patient engagement tools, and many new entrants in the care delivery space. In this new environment, quality measures will be key to assuring patients, payers and other stakeholders that the care delivered in new ways maintains high standards. And PQA will provide the table for the stakeholders to meet and discuss how to best adapt to the evolving landscape. 
As PQA's Board chair for 2021, what are your goals for the organization this year?
I am pleased to work with PQA's new CEO, Micah Cost, and look forward to supporting him and the PQA team during this leadership transition. In 2021, PQA will focus on its strategic burst plan, addressing social determinants of health, measure development and immunizations. I look forward to working with the Board to position PQA as an agile, forward-looking organization that meets the needs of a changing and dynamic healthcare environment.   
Share this post: