The Business Case: Paying to Addressing Social Determinants of Health
PQA hosted a November 2019 national forum, Caring for the Whole Patient, to showcase emerging best practices to address the social determinants of health (SDOH) and the role of pharmacists. Building on the forum and PQA's other work, PQA is developing an SDOH Resource Guide and accepting contributions for the first edition through September 30. This is the final part of a three-part blog series revisiting the 2019 forum.
The final session of the PQA forum addressed The Business Case: Paying to Address Social Determinants of Health. The speakers for this session were Garth Graham, MD, MPH, President of the Aetna Foundation, Andrey Ostrovsky, MD, owner of Social Innovation Ventures, and Haleta Belai, a Senior Director at Centene.
Graham, who grew up across the highway from dreamy beaches, personally experienced the impact location has on quality care. Across America, healthcare ranges in quality from one neighborhood to the next. Graham emphasized that where someone lives has a direct impact on their health. He told participants that a person's life expectancy can change by 15 or 20 years within a small geographic area, as little as a 5-6-six-minute drive apart. Graham stressed the importance of viewing healthcare on a community level and not just on an individual level.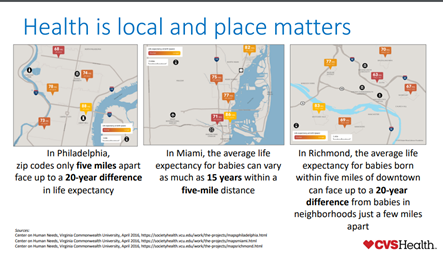 Referencing research by Harvard's David R. Williams, Graham said there is a higher degree of racial segregation today than was present before the Civil Rights movement. Many communities around the United States lack the necessary infrastructure and health network, resources, and services to be healthy.
 Local social networks that fill the infrastructure gaps in communities can optimize patients' abilities to overcome SDOHs. Community pharmacists play an essential role in those local social networks in helping patients with health issues. Graham was proud of CVS Health's efforts to connect communities with more resources to build stronger local healthcare webs.
Adding to Graham's perspective, Ostrovsky discussed how upstream social determinants such as classism, racism and other institutional and societal problems significantly impact quality health. Lack of access to transportation, housing, food and other basic needs are fundamental obstacles that put many patients at a health disadvantage. If a patient struggles to overcome one SDOH, they will likely fall victim to the tangled web of multiple other SDOHs.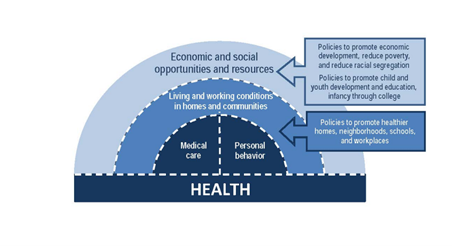 Ostrovsky provided details on one method to fill health infrastructure gaps through investment in opportunity zones, or underserved communities. A 2017 tax reform bill incentivized prosperous organizations and individuals to invest capital gains in opportunity zones. John Gorman, chairman of Nightingale Partners, pioneered the idea to utilize this bill to improve the quality care of patients and local health webs of underserved areas by using the investments of large corporations and wealthy individuals.
The strategy involves working with organizations with capital gains to invest those gains in SDOH-related services and resources, as a way to improve health for underserved communities while lowering tax burdens for those organizations. By partnering with health plans and determining the SDOH needs of their beneficiaries and the communities in which they reside, investments can be in services and organizations that are qualified opportunity zone businesses (QOZB) and funded through a qualified opportunity zone fund (QOZF).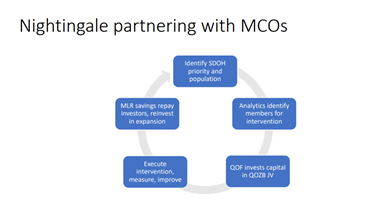 The health plan and QOZF earn value from this partnership, as the revenue saved from the investment in a QOZB is split between the two groups. The QOZB also gains revenue as the QOZF directly invests in it. Most importantly, underserved patients benefit from this relationship as it provides them with resources and services that strengthen their abilities to overcome SDOH.  
Belai echoed Graham's and Ostrovsky's points on the importance of individual healthcare outcomes related to social, environmental and behavioral factors. Centene was founded in the 1980s to help serve patients who were falling through the cracks. Belai stressed that the impact of SDOH in health care is not a new challenge.
Centene's approach is to create a sustained impact by partnering with community organizations. There are partnerships and program initiatives taking place around the country to solves SDOH. Belai's team will partner with community organizations to share, innovate, scale and measure. They partnered with Feeding America to better serve and feed chronically food-ill patients. She did highlight how difficult it can be to sustain long-term partnerships.
One idea that the team at Centene had was to create a Coordinator Support Team to assist community pharmacists. These support teams follow up with patients and share information with pharmacists and other care team members that can help address SDOH issues. Data showed that patients that interact with a member of the Coordinator Support Team have increased medication adherence.
Graham, Ostrovsky and Belai all agreed that stronger local health networks are the driving force towards breaking the chains of SDOH that inhibit patients from health improvement.
You can view the entire forum on PQA's YouTube channel. This session on Addressing Social Determinants of Health in Different Populations begins at 2:10:32 with Graham's presentation. 
Cameron Wilson, a strategic communications major at Elon University, was PQA's inaugural Washington Health Industry Communications Internship program participant in 2020. 
Share this post: