Caring for the Whole Patient: Diverse Care Settings
PQA hosted a November 2019 national forum, Caring for the Whole Patient, to showcase emerging best practices to address the social determinants of health (SDOH) and the role of pharmacists. Building on the forum and PQA's other work, PQA is developing an SDOH Resource Guide and accepting contributions for the first edition through September 30. This is the second of a three-part blog series revisiting the 2019 forum.
The second session in PQA's forum on best practices and scalable solutions focused on Addressing Social Determinants of Health in Different Care Settings. The speakers were Nupur Mehta, MD, MPH, FACP, with CareMore Health System, Lisa Mostovoy, PharmD, of BCBS Association, and Benjamin McNabb, PharmD, owner of Love Oak Pharmacy. They discussed efforts to better serve patients' SDOH needs across varied healthcare settings.
Community-based pharmacies, McNabb said, can assist in solving problems related to SDOH. Along with having a clear view of the complexity of each patient, community pharmacies help make quality care more sustainable.
He shared the example of a patient without primary care who had obtained a long-acting antipsychotic drug from an emergency room (ER). While the patient could obtain her medication, she wouldn't be able to refill her prescription at the ER, which was unsustainable and costly.
Using resources and connections to primary care physicians, McNabb's community pharmacy team search to fill every potential hole in the care of every patient, whether it's providing access to primary care, adherence packaging that gives clear instructions for prescriptions, food insecurity assistance or delivery for patients with no form of transportation. 
McNabb emphasized the importance of broadening the outcomes-based model of pharmacies from incentivizing the distribution of medication to incentivizing pharmacists to better understand the roots and symptoms of health issues and SDOH. One example of changing a key performance indicator, McNabb said was helping asthma patients get beyond asthma controller adherence to decreases in ER visits.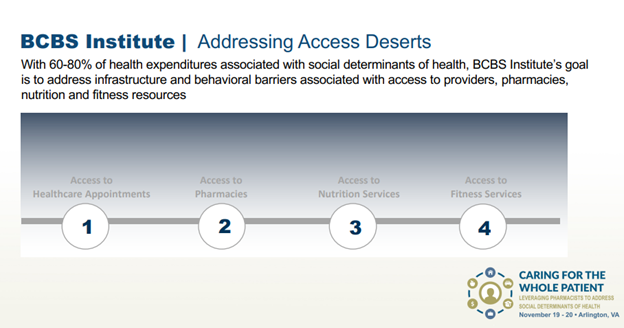 Mostovoy discussed The Blue Cross Blue Shield Institute, a subsidiary of the Blue Cross Blue Shield Association, and its dedication to improving the accessibility of pharmacies, prescribers, nutrition and fitness services for underserved patients. The organization uses CHM Hub, a data platform that identifies specific geographies where there are SDOH obstacles in the quality care process.
Mostovoy and her team at Blue Cross Blue Shield strive to discover the drivers of SDOH. For instance, they investigate nutrition beyond whether there are grocery stores in an area and research the quality and affordability of food sources.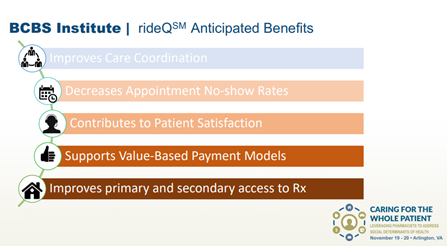 The Blue Cross Blue Shield Institute established RideQ, a platform that provides patients with transportation to health locations. The transportation service includes three different trip options: one way, round trip, and multi-stop. RideQ has led to better primary access to prescriptions. According to Mostovoy, 98% of patients are satisfied with the delivery service model, which has led to more patients picking up prescriptions.
Mehta discussed how the U.S. health care system functions and how CareMore Health System provides a patient-centered approach. While the U.S. system incentivizes care organizations to see the highest number of patients, the CareMore Health System has incentivized a healthier overall population.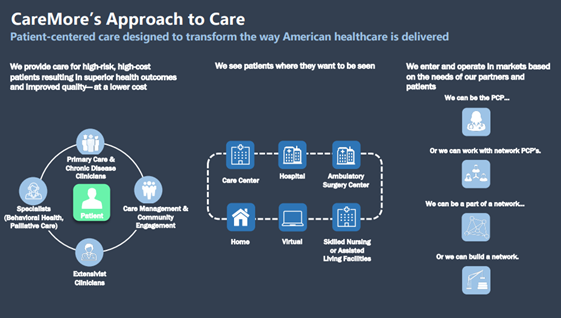 By engaging with patients and providing a multidisciplinary care team, CareMore can address underlying SDOH issues. The CareMore model is based on an understanding that each patient has unique needs, focuses on the quality of care, and works to reach the underserved.
CareMore is committed to addressing SDOH by using an in-depth screening process for each patient. This screening process investigates the following: housing, food, transportation, utilities, safety, financial strain, employment, family and community support, loneliness, education and physical activity.    
McNabb, Mostovoy and Mehta all emphasized the importance of providing comprehensive care to patients, including SDOH services, as these issues are significant health influencers.
You can view the entire forum on PQA's YouTube channel. This session on Addressing Social Determinants of Health in Different Care Settings begins at 1:15:52 with Mehta's presentation. 
Cameron Wilson, a strategic communications major at Elon University, was PQA's inaugural Washington Health Industry Communications Internship program participant in 2020. 
Share this post: