PQA and COVID-19 – Our Commitment to You and Quality
Laura Cranston, RPh
PQA Chief Executive Officer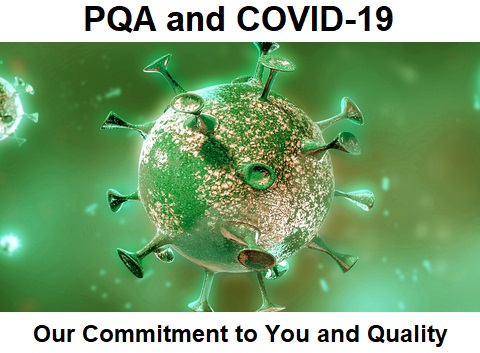 The COVID-19 crisis is greatly affecting medication use, services and quality. Early refills, potential shortages, drug substitutions, reduced clinical visits and looming financial challenges for patients will all have an impact on medication adherence, patient outcomes and quality measure performance. At the same time, the expansion of telehealth services and growing roles for pharmacy staff could lead to innovative, long-term solutions for improving medication safety and appropriate use.
During this crisis, PQA is tracking:
Issues affecting performance, analytics or reporting on medication use quality measures, and
Opportunities for expanding medication-related services or pharmacist-provided care and new measurement needs.
We want to help you adapt to the current situation and get positioned for future success. We're listening, we're providing informational and educational resources, and we're leveraging our convening power to understand COVID's real-world impact on performance measurement programs.
Here's how PQA is gaining input and providing support:
Share your feedback on five key issues that are impacting medication use quality. Your input will inform how PQA can help now and deliver long-term value to sustain your business and improve your ability to care for patients.
Join our new eCommunity Forum, where PQA members can discuss business-critical issues, share best practices and identify quality-related challenges that must be addressed.

We've created a guide to help members participate in this online forum.

Take part in our upcoming Quality Forum Webinars. The next two are focused on telepharmacy:

April 16: Telehealth: Advancing Care During Pandemics and Beyond – Cardinal Health's Adam Chesler will discuss pharmacy practice models that are leveraging technology effectively to provide remote clinical services.
May 4: Clinical effectiveness and pharmacy experts from Blue Cross Blue Shield of Alabama and Blue Cross Blue Shield of North Carolina will share best practices in telehealth. (Registration details will be shared soon.)

Attend the 2020 PQA Annual Meeting! Our May 13-15 meeting takes place entirely online. The general sessions will focus on how the industry is responding to COVID-19 and our educational sessions will be shared in brief, engaging formats – complete with Q&A and continuing education credit opportunities.

In addition to live online sessions, registrants can access archived recordings of all sessions at any time after the meeting – along with other educational resources through our soon-to-be-launched Learning Management System.

We'll debut through the

PQA blog

tomorrow some of the ways our members are addressing the COVID-19 crisis and its impact. We welcome your continuing input. We're focused on:

Access to care
Drug shortages
Pharmacist empowerment

We're evaluating and seeking input on recent CMS announcements and proposals that impact medication use quality. As we document member perspectives and prepare comments for CMS, let us know if you have views on these announcements:
We will develop additional communications and events related to COVID-19 in the coming months, as the impact of this crisis on clinical practice and quality programs becomes clearer. 
Thank you for being an engaged PQA member. We are focused on delivering value to you today and in the long-term as your partner in medication use quality. If you have other needs or questions, please do not hesitate to let us know. You can email us any time at [email protected].
Share this post: