The 2020-21 PQA Healthcare Quality Innovation Challenge
PQA with support from Pharmacy Quality Solutions is hosting the fourth annual Healthcare Quality Innovation Challenge, or HQIC. This competition encourages student pharmacists to work with fellow students from pharmacy, other health professions and business to develop innovative technology solutions to address the challenges facing pharmacy today.

For this year's competition, PQA has developed three prompts to address pressing issues that have been exacerbated by the COVID-19 crisis:
care delivery during pandemics,
mental health services, and
health disparities related to social determinants of health.
The prompts are unique, but within each there is room for improving pharmacy services, especially in team-based care models. Additionally, with continued social distancing and crowd-reduction recommendations, technology driven solutions for these areas is more pertinent than ever.
HQIC offers a plethora of benefits for participants. Cash prizes are awarded to the top three teams, but the program provides students with intrinsic and invaluable benefits, including:
Team-based learning: Students are required to work in teams of 2-4 individuals, with at least one team members being a student pharmacist, encouraging collaboration across varying degree fields.
Mentorship: A mentor is required for each team, allowing students to work closely with a PQA member faculty or pharmacist to guide and advise the team in their proposal development.
Diversification of knowledge and skills: Business plan development is the focus of this challenge, allowing healthcare students to dive deep in an area that is difficult to practice in a classroom setting.
Setting students apart: Embracing this challenge helps student set themselves apart, giving them an important skill set as they move into their careers after graduation.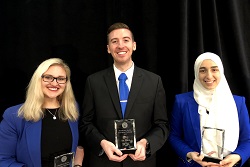 Participation in the program is open to students at all schools and colleges of pharmacy. Teams submit their business plan proposals by January 15 each year, and the top three finalists are selected to present their proposals at PQA's Annual Meeting in May of each year. Cash prizes include $5,000 for the 1st place team, $3,500 for the 2nd place team, and $1,500 for the 3rd place team.
See the Competition Details document for more information on HQIC. If you're a student or faculty member, who would like to learn more, we have two webinars designed specifically for you:
A webinar for students on Tuesday, August 11, 9:00-9:30 pm ET
A webinar for faculty on Wednesday, August 19, 5:00-5:30 pm ET
Both webinars will be recorded and available following the event. Registration is not needed for either webinar. Just click the link at the designated time to attend.
For other PQA members, there are ways you too can support or take part in HQIC:
Consider mentoring a team of student pharmacists. Mentors can be pharmacists or medication use quality professionals at organizations beyond schools and colleges.
Share the HQIC competition information with other health professionals. The program is open to students at all schools and colleges of pharmacy, regardless of PQA membership.
Email

[email protected]

if you have questions or would like to serve as a judge for this year's competition.
With your participation and support the 2020-21 HQIC competition will be the best yet!
Share this post: