Quality Forum Review: The Essential Role of Pharmacist in Transitions of Care
The PQA Quality Forum Webinar is a regular, recurring series on healthcare quality topics with a focus on medication use and medication services. It is a forum for educating and engaging with PQA members and quality-focused healthcare professionals.
PQA's August 18, 2022, Quality Forum welcomed a panel of expert advisors from the National Transitions of Care Coalition (NTOCC) Pharmacist's Taskforce to define the issues related to transitions of care and review the role of the NTOCC pharmacists task force.
Amina Abubakar, PharmD, owner and chief executive officer of Avant Pharmacy & Wellness Center, discussed how ineffective transitions of care (TOC) lead to increased hospital readmissions due to drug-related problems. She explained how this creates a substantial economic burden on the healthcare industry, but that pharmacists' active roles in improving medication safety during TOC can reduce hospital readmissions and improve quality.  Abubakar introduced the following transitions of care issues:
Poor communication between acute care, post-acute, ambulatory and community resources
Lack of pharmacists within the interdisciplinary care team
Minimal standardization and consensus of the transitional pharmacist's process
Financial reimbursement
Siloed technology and EMR integration with pharmacists and between levels of care
Klodiana Myftari, PharmD, BCACP, assistant professor of pharmacy practice at Midwestern University, introduced a care coordination guide to improve transitions and care coordination known as the NTOCC Care Transition Bundle. The Care Transition Bundle outlines seven essential intervention categories for designing transition services for patients and caregivers across the continuum of care. Medication management services and coordination, and healthcare provider engagement and shared accountability across the healthcare continuum are two intervention categories in which the guide states pharmacists should be involved as part of the interdisciplinary team.
Myftari elaborated on the medication management services and coordination intervention explaining that pharmacists should be involved in:
Assessing patients' medication lists and needs
Assessing Social Determinants of Health (SDoH)
Providing the patient and the identified caregiver with education and counseling about medications
Developing and implementing a plan for medication management services as part of the patient's overall plan of care
"Pharmacists can be a great partner in any one of the seven essential intervention categories," said Myftari, recognizing that a pharmacist's role within a TOC team should not be limited to just the two intervention categories mentioned previously. She also underlined that NTOCC's Care Transition Bundle is not a model of care but a list of considerations for improving TOC and is a guide that fits each TOC team and the patients they serve.
Sara Panella, PharmD, BCPS, CPh, manager of pharmacy ambulatory care, population health, and transitions of care at Baptist Health South Florida, wrapped up the discussion by introducing the Transitions of Care 10 Principles. The ten principles that the NTOCC's TOC Pharmacy Task Force commits to following to operate at the top of their pharmacy license in TOC and care coordination.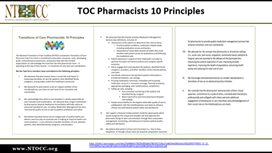 Panella shared that much of the work that went into the TOC Pharmacists 10 Principles was born from the misconception that pharmacists performing TOC services are only involved in medication reconciliation.  The TOC Pharmacist's Taskforce knows there are other opportunities for pharmacists that go far beyond medication reconciliation. As a member of the NTOCC Transitions of Care Pharmacists Advisory Committee of 2022, Panella is part of an initiative to create resources to build education and bring awareness to interdisciplinary teams about what pharmacists can do.  

All three experts made it clear that there is a huge opportunity for improving patient outcomes and the quality of healthcare that falls within pharmacists' scope. It is in the best interest of healthcare entities to educate their interdisciplinary teams on what pharmacists can do and identify ways in which they can be more integrated into TOC services.
You can listen to the full recording of this Quality Forum Webinar, a one-hour presentation with audience Q&A, on PQA's YouTube channel. PQA members can access the presentation slides in the Member Resources Library.
Oliver Emmanuel Valdez, a Class of 2023 dual Doctor of Pharmacy and Master of Science in Public Health student from Campbell University, is a PQA Advanced Pharmacy Practice Experience student.
Share this post: