Quality Forum Review: Statewide Collaboration Across Practice Settings to Improve Value-Based Care Outcomes
The PQA Quality Forum Webinar is a regular, recurring series on healthcare quality topics with a focus on medication use and medication services. It is a forum for educating and engaging with PQA members and quality-focused healthcare professionals.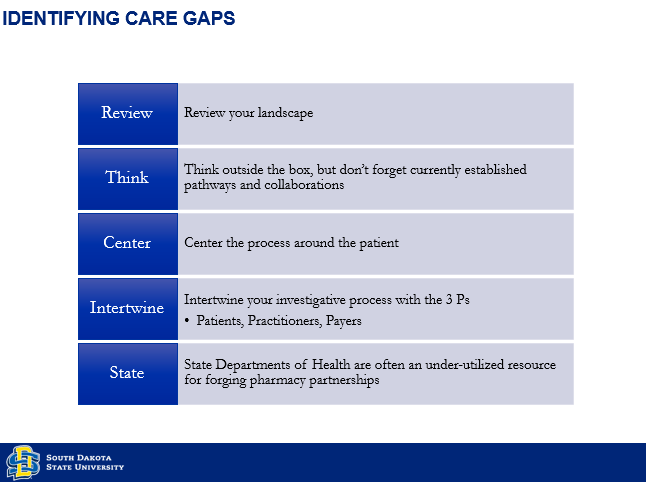 PQA's December 9, 2021, Quality Forum welcomed Sharrel Pinto, BSPharm, PhD, FAPhA, department head and the Hoch Endowed Professor for Community Pharmacy Practice at South Dakota State University and Director of the Community Practice Innovation Center. Pinto was the 2021 CPIQ Award recipient in the individual category.  
Pinto explained that to maximize the impact of value-based care models, improve key performance indicators and improve patient health outcomes, patients must comply with therapy and remain adherent. As individuals or entities approach creating value-based programs and services it is critical to engage patients in every step of the process to improve both patient buy-in and health outcomes. 
Next, Pinto outlined methods to identify care gaps, stakeholders and their desired goals to explain strategies to work with Integrated Delivery Networks (IDNs) and community partners. 
Pinto lays out the process to identify care gaps within a community. While thinking outside the box, she explained that it is helpful to review current partnerships and programs for opportunities to advance strategies and initiatives. After identifying gaps in care, Pinto discussed the importance of outlining the needs of all stakeholders such as patients, practitioners and payers. After completing those two steps, entities can discuss strategies to improve patient health outcomes that meet the specific needs of all stakeholders. 
Identifying care gaps coincided with a federal opportunity, CDC 1815, to improve the health of Americans with diabetes, heart disease and stroke, which aligned with South Dakota Department of Health's goals.  
The two objectives of the CDC 1815 initiative are to: 
Increase engagement of pharmacists in the provision of medication management.  

 

Promote the adoption of MTM between pharmacists and physicians. 

 
Through reviewing the landscape, engaging patients, payers and practitioners, and collaborating with South Dakota's Department of Health, the gaps in care identified were medication therapy management (MTM), diabetes prevalence, blood pressure medication non-adherence and pharmacy access.  
After outlining gaps in care, Pinto engaged patients to determine their needs which included:  
Understanding when to consult 

their doctor

 

Education about medications 

 

Cost of medications 

 

Reduced stigma 

around diabetes and hypertension diagnoses

 

Ability to regularly see their doctors

 
Pinto also highlighted practitioner and payer challenges to build strategies and solutions that addressed all stakeholder needs and challenges. Pinto shared the advice that strategy and initiatives developed in any program have to be customized to the specific partners and stakeholders for programs to be successful.  
Pinto provided an overview of the 5-year, grassroots plan she and colleagues have embarked upon, highlighting how they centered programs around patients and engaged the various stakeholders. 
In year one, Pinto conducted a landscape analysis and identified key stakeholders in the state and community. She focused on engagement and developing programming for community partners and stakeholders during year two.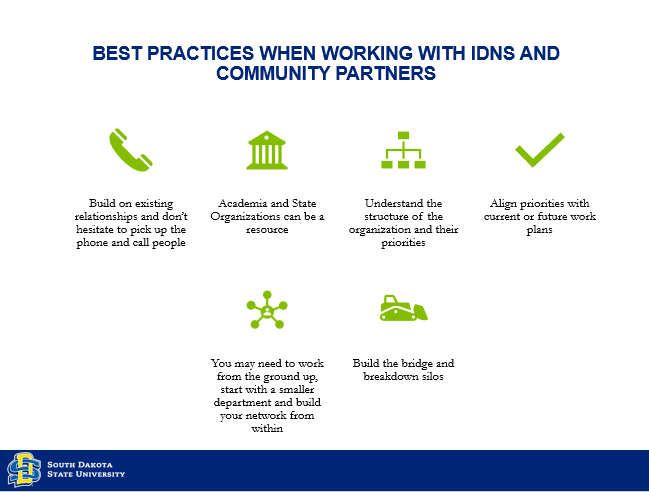 These programs were implemented, marketed, and enrolled patients through year three. Year four and five will focus on evaluating the sustainability, financial viability and impact on patient outcomes of the current programs. This project is currently in year four, with a reported decrease in staff turnover, improved patient health outcomes and increased job satisfaction.  
Pinto shared 
specific programs 
throughout the presentation 
highlighting the needs, key stakeholders and results. 
One such program was initiated a
fter 
it was discovered 
that
 a
 community pharmacy wanted to provide MTM services but lacked square footage
 in their pharmacy
. 
Concurrently, a
 health
 system needed assistance to improve outcomes via MTM or pharmacist 
counseling 
but
lacked
a 
sufficient
 number of
 ambulatory care pharmacists
. 
This program
integrated 
community pharmacists 
into
multiple 
clinics
 within the health system
 to 
provide 
MTM services,
 diabetes education
 and assistance on prescription costs to physicians
. 
Pinto concluded with best practices when working with IDNs and community 
partners
a
s well as
 building
 and develop
ing
 new programs and initiatives to address community-specific needs
. 
Pinto encouraged individuals who wish to learn more to email her at [email protected]. 
Share this post: