Q&A with PQA Board Treasurer Anne Burns
PQA's Board of Directors represents a diverse group of thought leaders and experts in healthcare, who understand how medication optimization improves patient outcomes and supports a value-based care system. Their expertise helps PQA advance the safe and appropriate use of medicines. This blog is one in a series profiling PQA's Board members.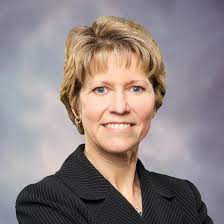 Anne Burns, BSPharm, RPh, is PQA's Board Treasurer for 2021. She is the Vice President, Professional Affairs, at the American Pharmacists Association (APhA), and has been a member for the PQA Board since 2016. Today she has shared with us her background, experience and insights on PQA's work. 
Tell us about your background and how you came into your current position as vice president of professional affairs at the American Pharmacists Association?
My background is in community pharmacy practice and academia, primarily in the central Ohio area, including a position at the Ohio State University College of Pharmacy for 13 years. I enjoyed the opportunity to work with patients and students in those positions. My husband's military assignment brought us to DC about 25 years ago. At the time, I was looking for a new and different opportunity and became aware of a position at APhA.
Professional association work was not an area I had considered before, but after interviewing, I was very intrigued to represent and impact the pharmacy profession in a different way.  It really is an honor to work on a variety of critically important initiatives for the pharmacy profession.
Tell us about APhA's involvement with PQA. What do you gain through your engagement with PQA?
APhA has a long involvement with PQA, starting with attendance at the 2006 press event where PQA was announced as an entity, so we've had the opportunity to be involved with PQA since its inception. As an organization, we strongly believe in demonstrating the value pharmacists contribute to patient care and, along with that, the need to have effective quality measures to measure that value.
In the last ten years, there has been a significant movement to value-based payment and care delivery models that have made the need for effective quality measures for pharmacists even more important. We view PQA as a critical partner and stakeholder in efforts to optimize and measure the impact of pharmacists in the health care system.
Given your work to advance the pharmacy profession and pharmacist-provided care, what is the unique perspective you bring to PQA's work and medication use quality?
APhA's work is based on monitoring the pharmacy practice environment to identify successful practices where pharmacists are involved in patient care roles, as well as interfacing with external stakeholders to determine how developments in the health care system will impact pharmacy practice. I bring these perspectives to inform discussions on measures that PQA could develop. I have long been an advocate for robust measures for pharmacists that demonstrate their ability to impact patient outcomes. Medication use measures are a critical component of this.
I also bring perspectives on the types of services pharmacists are providing in various practice settings, such as managing chronic conditions like hypertension and diabetes, and advocate that there are measures for pharmacists and pharmacies to use. This includes how pharmacists are delivering and documenting those services and what their barriers are. Similar to other PQA member organizations, APhA also brings the ability to extend PQA's reach by communicating PQA news updates and opportunities for involvement on PQA workgroups to our members.
How would you describe PQA's value for our health care system?
PQA's value to the health care system is its specific focus as a quality organization focused on medication use and pharmacists.  Other quality organizations develop and specify measures for physicians and other providers, so having PQA measures that focus on medications and the unique medication and health-related expertise that pharmacists bring to the health care system fills an important gap.
Our health care system continues to evolve in many ways, what do you see as the future for quality improvement in medication use and medication services?
I see an ongoing effort to build value-based models that deliver accessible, high quality and efficient care. This will continue the need for quality measures, with further scrutiny on those measures that matter most in measuring the value of care delivered. As pharmacists, we know that medications can significantly improve health, so there is an important opportunity for quality improvement that optimizes medication use and health outcomes.
As a PQA Board member, what are your goals for the organization this year?
I have had the wonderful opportunity to serve on the PQA Board of Directors for five years and have seen the organization transform over time. This year, my goal is to see continued progress in PQA's community pharmacy measures initiative. Over the past year, there has been significant effort at PQA to create measures that matter to the community pharmacy sector, and that is critically important.
PQA also has timely quality measurement work focused on social determinants of health that is important to advance. Looking at the pandemic, PQA efforts around vaccine measures are going to be important in making the case that some of the temporary scope of practice and payment authorities that pharmacists have received during the pandemic be made permanent. PQA will be integral in helping pharmacists and pharmacies make that case.
As a board, we are also working to support Micah Cost's successful transition in his new position as CEO and to continue to transform PQA, as it has done so effectively over the years.
Share this post: